California's Economy: One of the Largest in the World
Gross Domestic Product (In Trillions)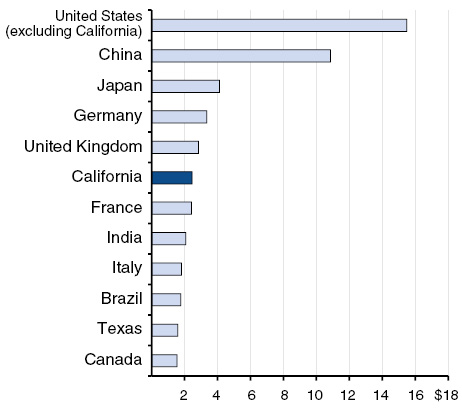 Gross domestic product (GDP) is the value of goods and services produced in a country or state.
Measured in U.S. dollars, only five countries had a GDP larger than California's $2.5 trillion GDP in 2015. Weakness in the value of European currency caused France's GDP to be just a bit smaller than California's that year.
With 34 percent of California's population, the Los Angeles/Orange County region produces 38 percent of California's economic output. With only 17 percent of the population, the Bay Area produces 27 percent of the state's output.
---
Economic Output Varies Throughout the State
Population and Per Capita Gross Domestic Product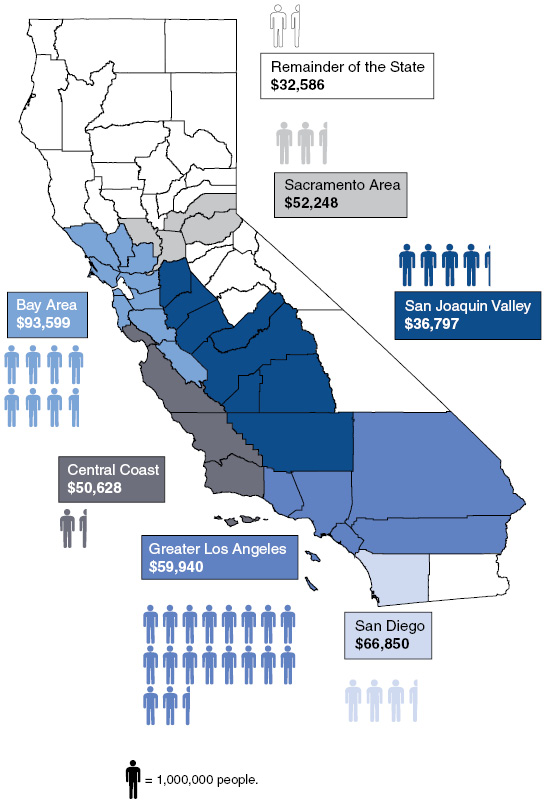 ---
Job Mix Varies in Different Regions of California
Employment Concentration in Selected Sectors, 2015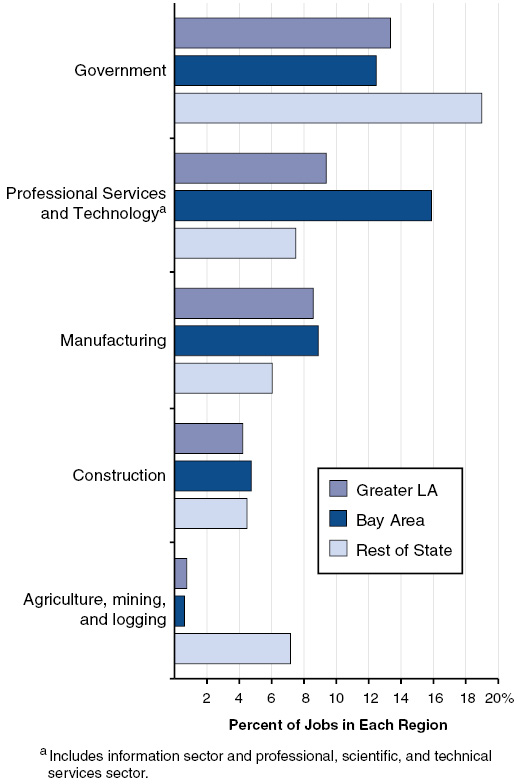 ---
International Trade Is Important to California's Economy
2015 International Goods Exports (In Billions)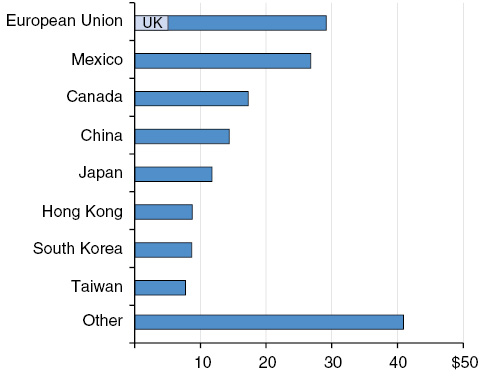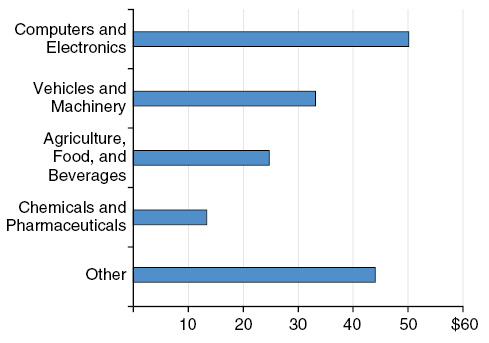 ---
California Is the Nation's Leading Farm State
2015 Value of Farm Production (In Billions)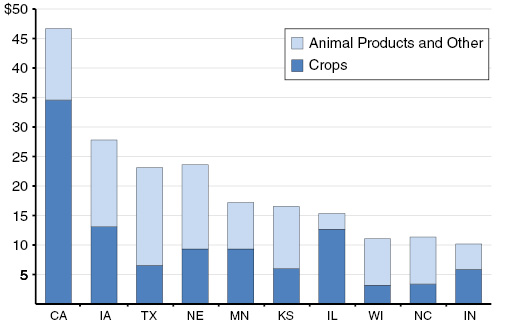 California's Top Ten Valued Commodities in 2015 (In Billions)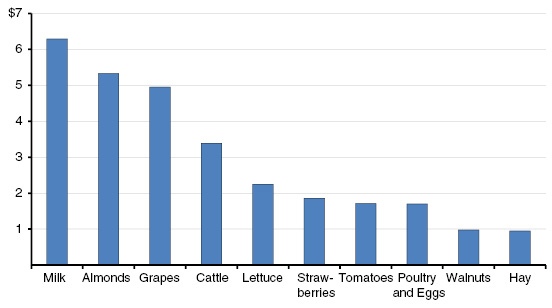 ---
Poverty Varies Across Counties, Driven in Part by Housing Costs
Poverty Rate

a

, 2011 Through 2013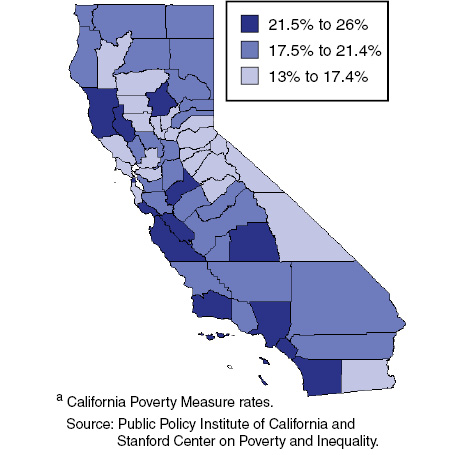 Unlike the federal Official Poverty Measure, the California Poverty Measure (CPM) accounts more comprehensively for certain household costs and government assistance and adjusts for regional differences in housing costs. High housing costs in a county are one factor that contributes to a high poverty rate under this measure.
Under the CPM, from 2011 through 2013, poverty rates varied across counties from a low of 13 percent to a high of 26 percent. Over this same period, the statewide CPM rate was 21.2 percent, equivalent to 8 million Californians being considered poor.
---
Top Incomes Higher in California Than in the U.S.
2015 Household Incomes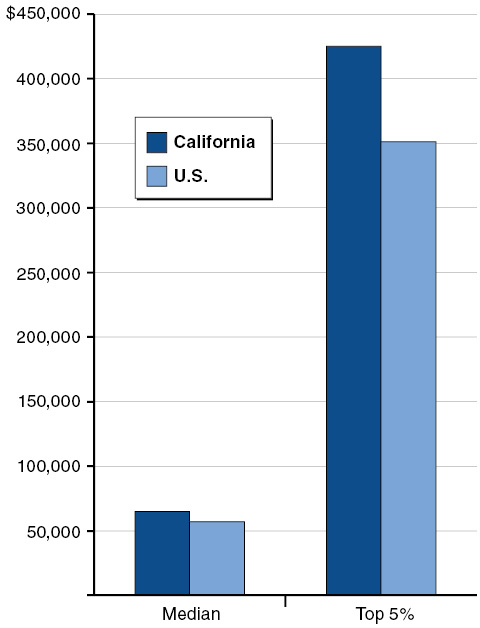 "Top 5%" refers to the mean of the top 5 percent of incomes. California has the fifth-highest "Top 5%" among the 50 states. (Other estimates of the highest incomes, such as the 99th percentile, are not available.)
---
California Home Prices Rising Faster Than U.S.
Median Home Price (In Thousands)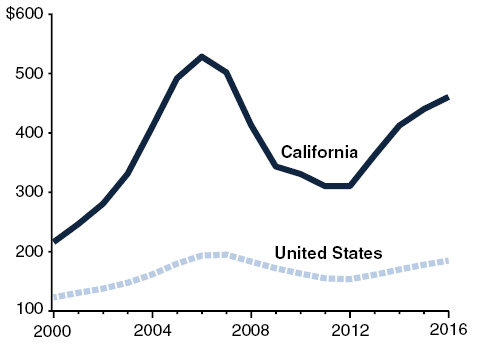 ---
Home Building Below Historical Norm
Residential Building Permits (In Thousands)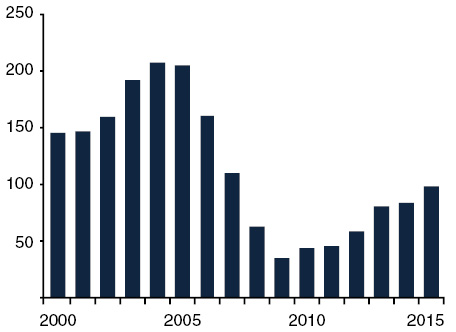 ---
Rents Higher in California
Median Monthly Rent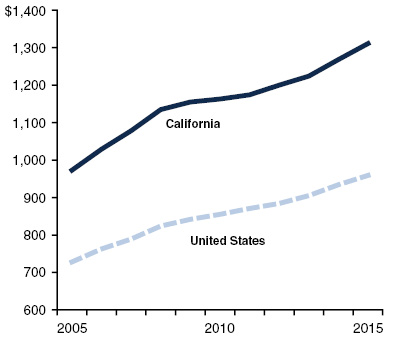 ---
Many Pay More Than One-Third of Their Income in Rent
Share of Income Spent on Rent, 2015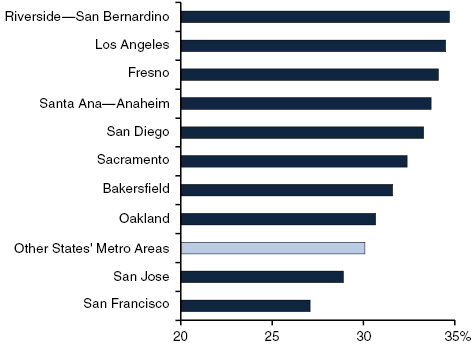 ---
Unemployment Rates Generally Highest in Central Valley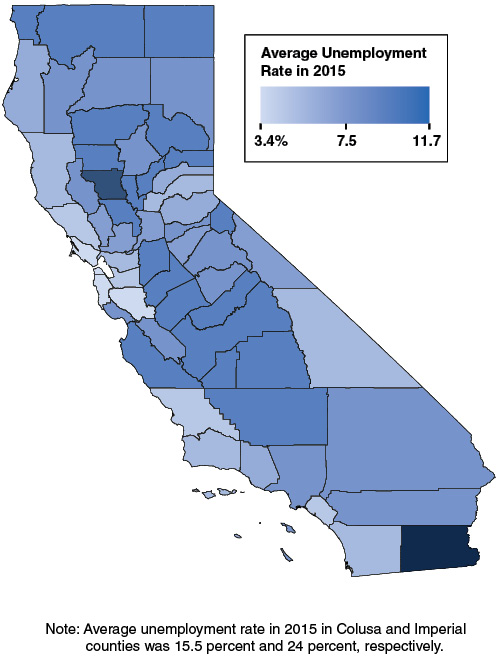 ---
California's Changing Population
(As Percent of Actual or Projected Population)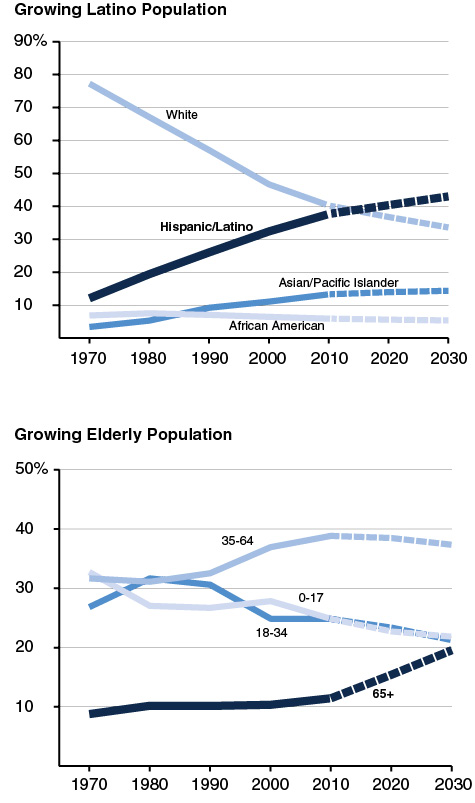 Transportation Funding Comes From Multiple Sources
2016-17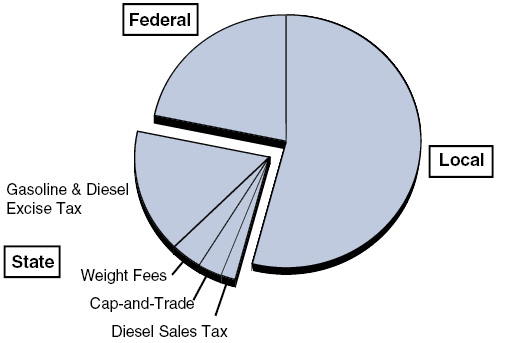 Total transportation funding in the state will be roughly $28 billion in 2016-17.
Local governments provide more than half of all transportation funding in California. Local transportation funding sources include local sales taxes, transit fares, development impact fees, and property taxes.
About one-fifth of the state's transportation funding comes from the federal government, supported primarily by federal excise taxes on diesel and gasoline.
The remainder of transportation funding comes from a variety of state revenue

sources—primarily

excise taxes on gasoline and diesel.
---
Average California Driver in 2015 . . .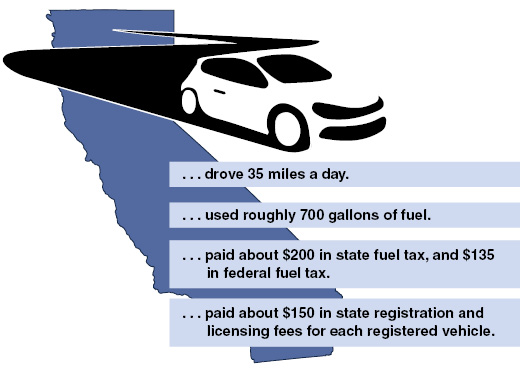 In 2015, there were 26 million licensed drivers in California, which is about 85 percent of Californians age 16 and older.
Traffic collisions remain a leading cause of preventable death in California with 3,074 people killed in crashes in 2014. California had the 16th lowest fatality rate in the

nation—0

.92 fatal injuries for every 100 million miles driven.
Roughly 85 percent of Californians drive to work alone or in a carpool, while about 5 percent of Californians use transit and about 4 percent walk or use a bicycle to reach their jobs.
Roughly 1 in every 20 passenger vehicles registered in California is a hybrid, electric, or alternative fuel vehicle.
(Source: http://lao.ca.gov/Publications/Report/3511?utm_source=subscription)