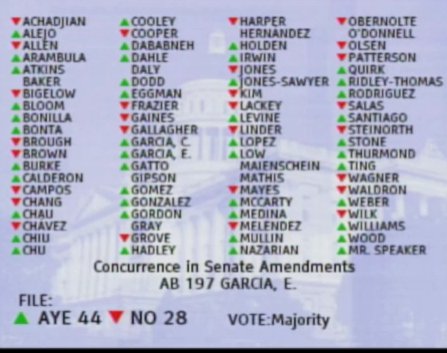 As I noted earlier today, there was a bit of added drama to the
passing
of
SB 32
yesterday in the California Assembly, as the passage was dependent on the state enacting
AB 197
. The Assembly debated AB 197 this morning, and it passed out of the natural resources committee with six votes in favor and one opposed. It then headed to the assembly floor where it just passed 44 votes in favor, 28 opposed. The governor has vowed to sign it.
The irony is that the oil and gas industry fought attempts in the legislature to save cap-and-trade with a two-thirds vote. Cap-and-trade is a more palatable market-based alternative for the industry, compared to direct regulation, which AB 197 now prioritizes. So the industry is stuck with a majority-vote command-and-control approach. Perhaps then it's no surprise that industry representatives argued against AB 197 in committee this morning by saying it would undermine cap-and-trade.
So given the political momentum, my guess is that diverse parties now have an incentive to save cap-and-trade. But in the meantime, California has affirmed its international-leading commitment to stay the course on greenhouse gas reductions through 2030, pending final senate approval of an amended SB 32.
(Source: http://www.ethanelkind.com/breaking-news-final-hurdle-for-californias-2030-climate-bill-passes-assembly/)