Summer
SPARE THE AIR
During the summer months, ozone pollution can become a health problem in the Bay Area. The summertime Spare the Air program notifies residents when air quality is forecast to be unhealthy, and urges residents to drive less and reduce their emissions of ozone-forming pollutants.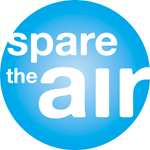 Spare the Air in the Summer
During the summer months when ground-level ozone, or "smog," becomes a pollution problem, the Air District issues Spare the Air Alerts for days on which air quality is forecast to be unhealthy.
These advisories are posted on our website with our
daily air quality forecast
s, recorded on our 1 (800) HELP AIR forecast phone line, announced in local newspapers, and broadcast on local TV and radio stations. The
EnviroFlash AirAlert
email system also notifies registered Bay Area subscribers.
In the Bay Area, the summer Spare the Air season generally runs
from April through October
when clear skies, hot temperatures, lighter than usual winds, and strong temperature inversions combine to create smoggy conditions.
Spare the Air Alerts
are declared for days forecast to have ozone concentrations that exceed
federal health-based standards
.
On these Spare the Air days, we urge residents to cut back on any activities that cause pollution - such as driving, using oil-based paints, gasoline-powered lawn mowers, or household aerosol products like hair sprays. People who are sensitive to unhealthy air are advised to limit their time outdoors, particularly in the afternoon hours.
(Source: http://www.sparetheair.org/make-a-difference/spare-the-air-every-day/summer)