Last week, DOT and the U.S. Department of Homeland Security (DHS)'s
Blue Campaign
jointly hosted an event on human trafficking in transportation. Along with more than 100 representatives from different transportation sectors and representatives from DHS and U.S. Customs and Border Protection (CBP), we reviewed and renewed our efforts to stop human trafficking in transportation, which can unfortunately serve as an enabler to this inhumane practice.
Identifying and ending human trafficking has been a priority for the Obama Administration from the start, culminating in the launch of the Blue Campaign in 2010. Since then, we have worked to add industry-specific initiatives to better combat human trafficking in transportation.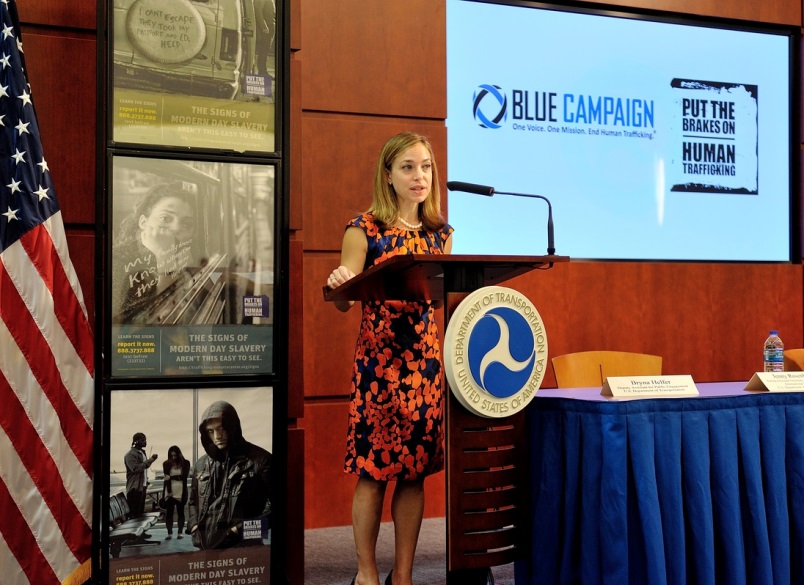 For example, In 2013, in conjunction with DHS and CBP, DOT created the
Blue Lightning Initiative
for commercial airlines. This initiative trains airline employees to be ready to act when they believe they're seeing human trafficking in-flight or on the ground.
To date, more than 70,000 trainings have taken place and countless tips have been reported to law enforcement. Allegiant Air, Delta Air Lines, Jet Blue Airways and Silver Airways are all partners in the Blue Lightning Initiative, and today we are pleased to announce our newest partner, SkyWest Airlines.
We also want to encourage airlines to join Blue Lightning as a way to meet the new Congressional requirement for training flight attendants.
DOT's work on combatting human trafficking doesn't stop with aviation; it involves other transportation sectors as well. By the end of this year, all of Greyhound Lines Inc.'s bus drivers will be trained to recognize and report signs of human trafficking. This successful venture is the result of a partnership with DHS, the American Bus Association, and the United Motor Coach Association to create a
training program for the motor coach industry
. We hope other bus companies will follow Greyhound's lead.
In addition, we have been working with Amtrak and DHS to train the railroad's 20,000 employees to identify and report signs of human trafficking.
At DOT, we realize the importance of leading by example, and we have provided human trafficking awareness training to nearly all of DOT's 55,000 employees in the U.S. and abroad. We first offered this training in 2012 and required it again this year.
I am grateful to all of our partners for joining with us to end human trafficking. We look forward to building additional partnerships with companies who are ready to engage their entire organizations – from the executive offices to front line workers – to shine a spotlight on trafficking and work with us to end it.
By investing in training for employees, instituting reporting protocols, and educating the traveling public, they are helping to raise awareness and save lives. Working together, I know we can win the fight for human rights.
What You See Could Set Someone Free
Raising your awareness about human trafficking, identifying it, and reporting it can save lives. You can help by educating yourself and learning the
signs
of human trafficking. If you suspect someone is a victim of human trafficking,
report a tip
. For more information on DOT's human trafficking initiatives, visit
www.dot.gov/stophumantrafficking
.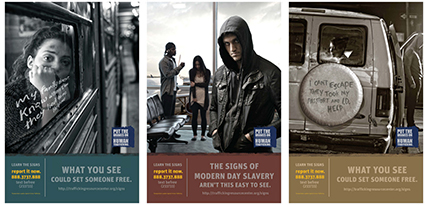 (Source: https://www.transportation.gov/fastlane/transportation-stakeholders-come-together-put-brakes-human-trafficking)