The Mayors' Challenge for Safer People, Safer Streets is in its final stretch, and we are hearing more and more about the impressive accomplishments of the 246 participating communities.
In March,
I announced
that we would recognize the great work that these communities are doing to advance pedestrian and bicycle safety with the
Mayors' Challenge Awards
. Awards will be considered for work relating to the
seven Challenge Activities
,
Ladders of Opportunity
, and for best use of DOT resources and active engagement in Challenge events. We will be excited to recognize the award winners this September at the Pro Walk/Pro Bike/Pro Place Conference in Vancouver, BC and at the Safer People, Safer Streets Summit here in Washington, DC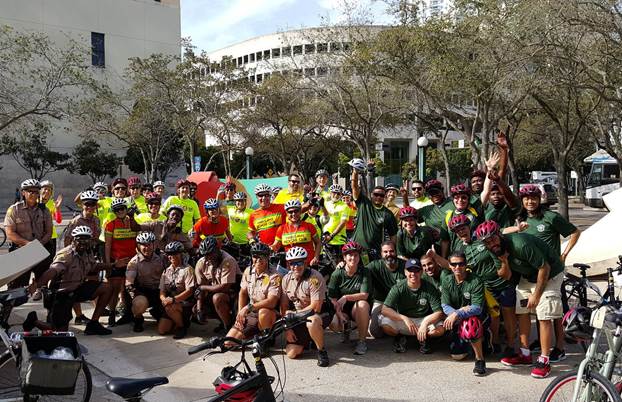 Mayors' Challenge Community, Miami-Dade County, FL Police and Everglades Bicycle Club at Bike to Work Day 2016
The success stories we receive through the awards applications will add to what we already know about Mayors' Challenge activities. In a recent survey, many cities told us the Challenge has helped them focus and grow momentum for pedestrian and bicycle safety, and many also said the Challenge has helped with coordination among partners and city agencies. The Challenge has further helped get the word out about new USDOT resources: a majority of respondents to our survey have used FHWA's
road diet guide
and its
resurfacing guide
.
We have already heard about exciting strategies from many cities:
Orlando, FL started the city's first ever bicycle and pedestrian count program. The program has helped the city provide trail enhancements, and it functions as another economic development tool for attracting new businesses.
Austin, TX completed 36 miles of additional bicycle and pedestrian facilities during routine road maintenance and completed the Pedernales bikeway in a high-poverty area. Its Bike Share program now offers memberships to residents without established credit.
Fair Haven, NJ mayor Benjamin Lucarelli was recognized as the Advocate of the Year by the NJ Bike & Walk Coalition for creating a novel cost-share agreement between municipalities and the county to make it easier for Complete Streets features to be added to county roads.
I look forward to receiving the awards applications this week to recognize accomplishments like these. The application form for awards is simple: submit a brief descriptive narrative about the community's successes since joining the Challenge and indicate the relevant awards categories for consideration.
The deadline to submit an application is tomorrow, June 30
, so if your city is participating, be sure you don't miss your opportunity to be considered! You can find the nomination form
here.

[external link
And we hope that you'll join us in DC in September for the Safer People, Safer Streets Summit to celebrate and learn more about the great progress that cities have made through this initiative.
(Source: https://www.transportation.gov/fastlane/mayors%E2%80%99-challenge-awards-recognize-pedestrian-and-bicycle-safety-achievements)