Transportation connects people—and connections provide economic opportunity and social mobility.
That's the message that U.S. Transportation Secretary Anthony Foxx brought to the
Volpe
Center for his keynote address kicking off
The Future of Transportation
: Safety, Opportunity, and Innovation
speaker series on June 27.
Because, for all the visions and visionary figures working on the next big thing in transportation—self-driving cars, commercial space flight, the Hyperloop—the U.S. Department of Transportation (U.S. DOT) is working toward a transportation future that offers safety, efficiency, and opportunity to all Americans.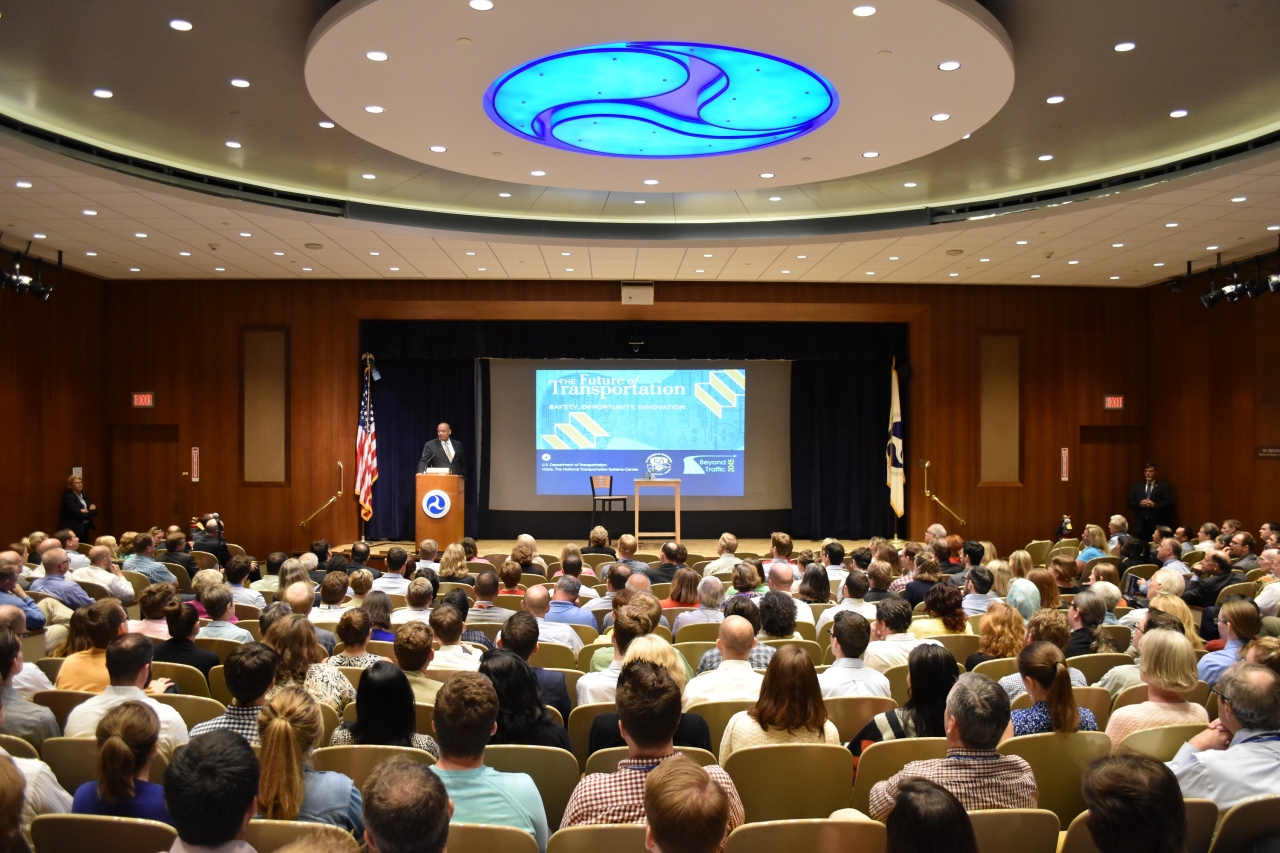 "I'm here to frame innovation within a human context," Secretary Foxx said at Volpe. "I love cool stuff, I love technology, but the message I'm trying to get across today is that it all has to be people-centered. If it's not, it could be technology for technology's sake.
The
Future of Transportation
advances the conversation that began with
Beyond Traffic
2045
, Secretary Foxx's 30-year framework for the future. While
Beyond Traffic
detailed the challenges facing transportation in the U.S., according to Secretary Foxx, it also left out something big: opportunity gaps are widening, and transportation professionals need to help close them.
This is a particularly good time to rethink transportation, Secretary Foxx said. Much of our transportation infrastructure is reaching the end of its useful life, and the recently signed
FAST Act
legislation provides long-term surface transportation funding.
A transportation system that meets the challenges and closes opportunity gaps will happen only if transportation practitioners listen closely to the people they serve, he said. And that's going to require better communication on the federal, state, and local transportation agency levels.
"We have historically turned a lot of public input over to very technical folks who interact with the public," Secretary Foxx said. "And unless you are what I call a professional citizen, it's kind of hard to understand what it is that's being discussed and how you can impact the process in a real way. If we're going to meet the challenges of the future, part of what we have to do as a transportation community is to develop a better ear, and we're working to do that."
As part of that effort, U.S. DOT is looking at hosting a "Citizens Academy" that will serve as an entry-level course for helping everyday people understand how transportation decisions get made in their communities.
Learn more
about upcoming speakers in Volpe's
Future of Transportation
series, and
join the conversation
by webinar or in person in Cambridge, Massachusetts.
(Source: https://www.transportation.gov/fastlane/kicking-future-transportation)