The roads and bridges we drive on connect us to the places we need to go, our ports move freight around the country, and our transit systems are weaving our urban communities together. The health of our transportation system is directly related to our economic success, but the reality is that some of these assets are centuries old and in desperate need of repair, while the need for new infrastructure continues to grow.
I've made it a priority as Secretary of Transportation to support creative and innovative infrastructure finance, and to advocate for long term funding solutions. I am excited to announce that today we officially opened the doors of the new Build America Bureau, a center that will deliver real, tangible infrastructure development for local, regional, and national population centers.
The Build America Bureau – which we call "the Bureau" – will drive transportation infrastructure development projects in the United States by streamlining credit opportunities and grants more quickly and transparently, while providing technical assistance and encouraging innovative best practices in project planning, financing, delivery, and monitoring. The FAST Act, the legislation establishing the Bureau, acknowledged the success of the Department's earlier work through the Build America Transportation Investment Center (BATIC), part of the Obama Administration's broader Build America Investment Initiative. The Bureau will ensure that the BATIC efforts are continued into the future while providing a more comprehensive approach and will expand upon the successful customer-oriented infrastructure development support provided by BATIC.
Project sponsors and investors will be able to access the Build America Bureau as a one-stop shop to help develop projects and provide financing in a single streamlined, effective, and comprehensive manner. Under the Bureau roof there will be an outreach and project development arm, full credit services, and the new $800 million Fostering Advancements in Shipping and Transportation for the Long-term Achievement of National Efficiencies (FASTLANE) grant program.
The Bureau will utilize the full resources of all the modes within DOT, and promote a culture of innovation and customer service. To the customer, there will be a single entity in charge of DOT credit, large scale, and intermodal project development, and a single point of contact for working with DOT on infrastructure finance and development.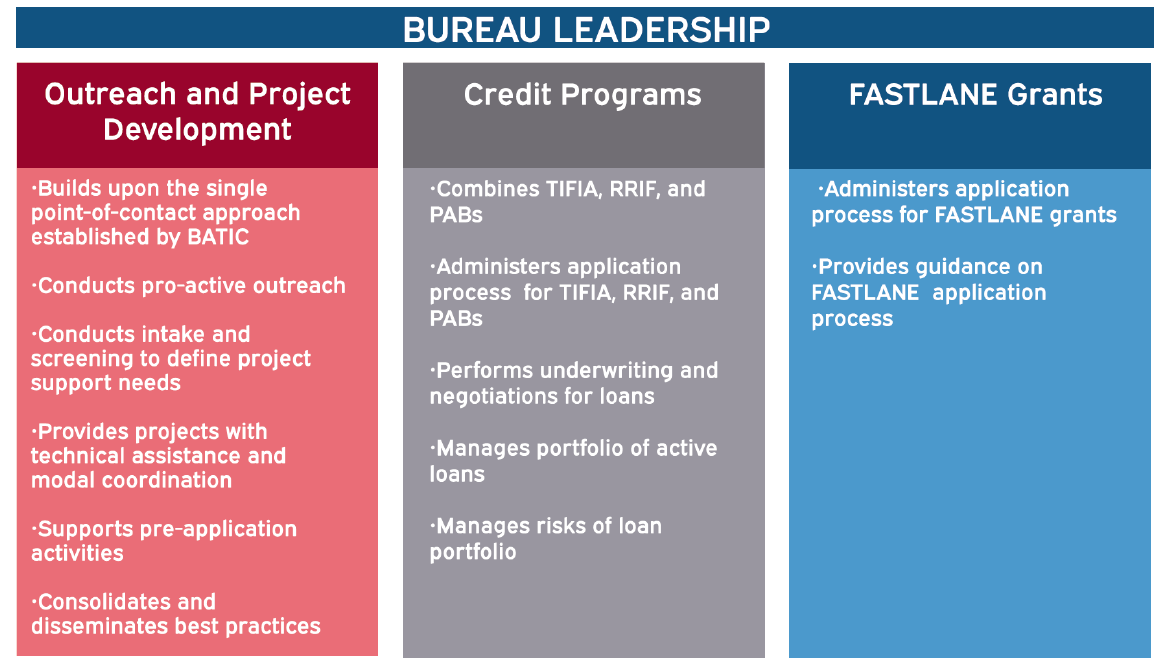 Although DOT has been successful in delivering major transportation infrastructure in innovative ways with a variety of public and private partners, the existing processes can be often overly complex, time-consuming to access, and frustrating to navigate. While transportation projects are increasingly multi-modal, the existing federal credit and funding programs remained siloed by mode.
The Bureau Outreach and Development team, continuing the work of the BATIC, will work with the project sponsors to educate them on how they can best combine DOT credit, funding, and innovative project delivery approaches such as public-private partnerships (P3s), and then offer project-level technical assistance to get them ready to pursue it. The Department's Credit team will be able to underwrite loans from multiple sources together, so that the customer is no longer getting a TIFIA loan or a RRIF loan, but instead a single credit package from DOT to help them build the infrastructure they need. The FASTLANE grant program will help fund high-impact projects that address key challenges affecting the movement of people and freight.
In 2014, President Obama challenged us to "Build America" and deliver the infrastructure the United States needs. We answered with BATIC, which so far has helped DOT close over $10 billion in financing for 21 projects to support $26 billion in total project costs. Today, we take our commitment one step further launching the Build America Bureau, which will be the home of innovative infrastructure finance for years to come.
(Source: https://www.transportation.gov/fastlane/build-america-bureau-opens-doors-innovative-infrastructure)