A new survey of 3,000 riders finds frequency, speed, and walkability are key for satisfying, effective transit.
Passengers watch as a subway train pulls into the 34th St./Hudson Yards subway station in midtown Manhattan.
(REUTERS/Brendan McDermid)
Sad but true: Not all officials who make decisions about public transit actually use public transit.
That disconnect can sometimes lead cities to make transit investments in things like
downtown streetcars
or
wifi-equipped bus fleets
. Those aren't bad investments in themselves, but they're not always conducive to truly effective transit. "The reality is, good transit is the same as it's always been," Steven Higashide, a senior program analyst at the transportation research foundation TransitCenter, said in a conference call Monday. "It's getting someone where they want to go, quickly and reliably."
A
new survey analysis by TransitCenter
confirms this. Based on the responses of 3,000 transit riders from 17 regions around the U.S., the report finds that there are three big things that make for satisfying and effective transit service: frequency, speed, and walkability.
Frequency
The transportation guru Jarrett Walker often evangelizes about the value of system frequency over coverage in transit, arguing that fewer train or bus routes with arrivals every 10 to 15 minutes serve riders much better than many, spread-out routes where riders have to wait much longer. He
writes
:
People who are used to getting around by a private vehicle (car or bike) often underestimate the importance of frequency, because there isn't an equivalent to it in their experience. A private vehicle is ready to go when you are, but transit is not going until it comes. High frequency means transit is coming soon, which means that it approximate the feeling of liberty you have with your private vehicle—that you can go anytime. Frequency is freedom!
Analyses in the TransitCenter report suggest that riders agree. In one, the researchers compared satisfaction levels with various attributes of regional transit systems between respondents who said they'd recommend their transit service to others and those who wouldn't. Of all the attributes (charted above), frequency of service demonstrated the largest gap in satisfaction between transit boosters and detractors, and it got the very lowest rating from transit detractors. That suggests that frequent service is essential if you want happy riders.
Speed
In that same analysis, the second-largest gap in satisfaction was travel time—how long it takes to get from station to station. Translation: Fast trains equal more satisfied riders. A second analysis supports this conclusion. Respondents were asked to ranked the relative importance of 12 potential improvements to a hypothetical bus route (the results are charted below). They ranked travel time number one. (Frequency is a close second, with cost reduction in third place.)
Notably, new outlets and wi-fi ranked last and least in this ranking, which "calls into question the fad for free wi-fi among transit agencies," according to the report. "Transit riders aren't clamoring for it."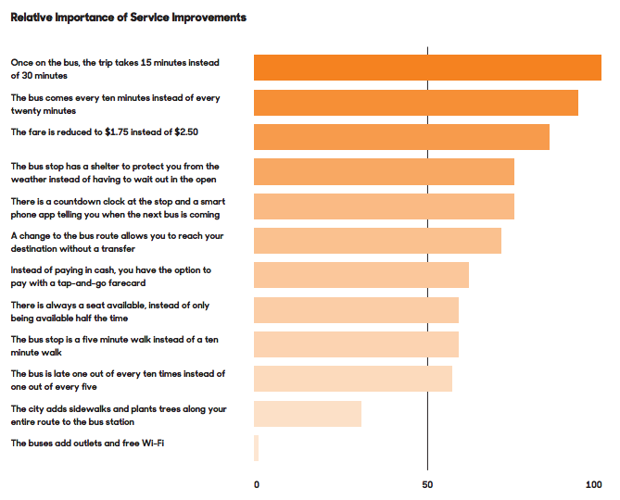 Walkability
Finally, the report identifies walkability—here, the ability to walk to transit—as the third key factor at the heart of effective, useable transit. To arrive at this conclusion, the researchers broke down riders into three types: Occasional riders, who use transit only once in a while; commuters, who use transit regularly, but only to get to work; and "all-purpose" riders, who take transit regularly to travel to all types of destinations—work, dining, entertainment, and shopping. That last category is especially important for cities to pay attention to, Higadishe said: "When you have lots of all-purpose riders, that's a signal that a transit system is really useful."
Across all three rider types, most survey respondents said they typically walked to access transit. But all-purpose riders did so overwhelmingly, with 80 percent typically getting to transit on foot, compared to 53 percent of commuters and 57 percent of occasional riders. In an additional, more fine-tuned analysis of spatial data from TransitCenter's national transit database
AllTransit
, the researchers identified a similar relationship: "If someone can walk to transit, he or she is more likely to be a frequent transit rider," according to the report. Walking is super important to access transit—which may indicate that transit agencies shouldn't assume that new
partnerships with ride-hailing companies
—where Uber and Lyft rides to and from transit stations are publicly subsidized—will dramatically boost ridership.

Using
AllTransit
's quality-assessment tool, TransitScore, the researchers also found that those all-important, all-purpose transit riders tend to live in neighborhoods with high scores across a number of AllTransit's quality factors, including proximity to and frequency of service, access to jobs, and system coverage. In other words, riders tend to use transit more when it serves them well.
This was true whether or not riders owned cars, the survey found. That saps credence from an old idea in transportation planning that non-car-owning riders are "captive" to transit, regardless of its quality. Indeed, in this survey, those so-called "captive" riders were still sensitive to service quality, and used transit less where transit service quality was low, as the above chart shows. Transportation planners, it seems, shouldn't be taking any riders for granted.
There is one big caveat to this survey: Although the sample of transit riders was fairly large and represented a diverse group of medium and large U.S. cities, the riders themselves were not very diverse in terms of income, with fewer than seven percent coming from households making less than $25,000 a year. Given that transit commuters are
disproportionately poor
in most large U.S. cities, that's a significant undercounting.
A sample with greater income diversity would have served this report, and poor riders, better. Still, its absence doesn't invalidate these conclusions. For transit agencies competing with cars, taxis, and ride-hailing apps for riders, taking into account what higher-income riders actually need and want is also pretty important.
(Source: http://www.citylab.com/commute/2016/07/transit-riders-survey-walkability-frequency-speed/490913/?utm_source=nl__link3_071316)