Converting a bike into an e-bike can be as easy as swapping out a wheel—but the costs are still a burden.
/

4:31 PM ET




The GeoOrbital wheel takes under a minute to install, according to its creators. (GeoOrbital)
This summer, authorities in France are taking unprecedented steps to thwart an unexpected form of fraud in the Tour de France. The
French Alternative Energies and Atomic Energy Commission
will deploy thermal cameras to detect tiny motors hidden in cyclists' wheels, a form of cheating known as
"mechanical doping."
The cameras will detect small trace heat signatures put off by a motor, even one that's not in use—a precaution that became a necessity after the Belgian cyclist Femke Van den Driessche was
caught using a secret motor
this year.
While shortcut-taking cyclists may be on the bleeding edge of hybrid bicycle technology, there is a monumental effort afoot to rethink the bicycle wheel as a platform. Mechanical doping in the Tour only goes to show how small and lightweight creators can go with motors. It's trickling down to average cyclists, too.
In June, a
Kickstarter campaign for a product called the GeoOrbital wheel
cleared its goal and then some, raising $1.3 million on a target of $75,000. The GeoOrbital company aims to replace the traditional hub-and-spokes wheel with a device that looks like a prop-piece from
Tron
: a wheel that acts as a track or tread for smaller motorized wheels-within-a-wheel. The GeoOrbital wheel will essentially turn virtually any traditional bicycle into a front-wheel-drive motorized scooter.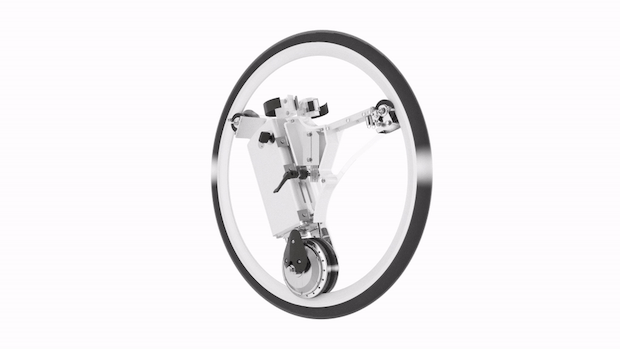 Another production from Denmark, the
Solar Bike
, generates enough energy to boost cyclists to speeds of up to 30 miles per hour. And the now-ubiquitous hovercraft—while nowhere near as reliable, safe, speedy, versatile, or safe as an electric bicycle—could be seen as an effort to achieve the same range and ease as an electric bike.
The real innovation in the GeoOrbital project, if it works as well as its makers suggest, is the way by which it treats existing bikes as a kind of infrastructure. Instead of adding motors and batteries to bicycles to motorize them, GeoOrbital replaces the wheel with a motor. This means that the existing infrastructure that communities are building for bicycles (not to mention the bicycles themselves) will still be useful, even as the technology evolves. That's less true of something like a hovercraft or a Segway.
Sleek bicycle-conversion technology doesn't come cheap: A
pre-order for the GeoOrbital Wheel
runs $799.99. A
pre-order for the Copenhagen Wheel
customized to fit a road bike costs $1,199. Let's hope that efforts to devise ever-smaller motors that fit seamlessly with the bicycles that we already use helps to bring down those prices—though perhaps not through
competitive scandals.
(Source: http://www.citylab.com/navigator/2016/07/the-tech-race-to-produce-an-instant-electric-bicycle/489803/)