The improbable coming together of environmental activists, labor unions, and social justice groups made it happen.
People demonstrate outside Oakland's City Hall on June 27.
(AP/Janie Har)
When Oakland city leaders and developers broke ground in November 1, 2013, for the new Oakland Global Trade & Logistics Center, a 322-acre industrial hub at the port of Oakland, it was celebrated as a
spark for the
renaissance of
the economically beleaguered city. The Army base that once occupied that area had been shuttered since 1999, taking thousands of jobs with it.
When it's finished, t
he new industrial center will include the Oakland Bulk and Oversized Terminal, storing volumes of commodities for export to other countries, including China.
One commodity that would not pass through that terminal is coal, the Oakland Global project developer Phil Tagami promised back then. In a December 2013
newsletter
from Tagami's development company
California Capital & Investment Group
, he made this assurance:
It has come to my attention that there are community concerns about a purported plan to develop a coal plant or coal distribution facility as part of the Oakland Global project. This is simply untrue. The individuals spreading this notion are misinformed. CCIG is publicly on record as having no interest or involvement in the pursuit of coal-related operations at the former Oakland Army Base.
A unanimous vote from Oakland's city council earlier this week
banning the handling and storage of coal
certified Tagami's claim. But that ban came only because Tagami had begun reneging on his no-coal promise: Not long after that newsletter came out, the developer began negotiating with Utah about taking in tons of that state's coal products at the bulk terminal in exchange for $53 million. As
reported in
The Richfield Reaper,
a small-town newspaper in south-central Utah, in April last year:
The proposal is for the CIB's $50 million to be used to pay for a portion of the construction of a $250 million shipping port in Oakland. While CIB money would be used to fund the infrastructure, the four participating counties wouldn't own the facility. Instead, they would own the right to use 49 percent of the port's capacity for trans-Pacific shipping. …
By purchasing a portion of the port's capacity, the four partner counties would be able to use 49 percent of an estimated 750,000 tons of shipping capacity each year to ship coal and other products.
When environmental-justice activists in Oakland caught wind of this information, they immediately began
alerting various communities
. It was bad enough that Tagami was breaking his promise. But the bulk terminal where the coal would pass through is right near West Oakland, a historically African-American section of town, with
high rates of unemployment and asthma
. What followed was a wide-reaching mobilization against the coal plans that spanned across a diverse set of activist circles: environmental justice, economic justice, labor unions, and even fair-housing advocates.
Because of
this coalition—working under the banner of
No Coal in Oakland
—the city took a historic
vote on June 27

to ban coal
, following the lead of cities such as
Portland
,
Oregon
.
Had the deal gone through, millions of tons of coal would have been stored at the port terminal annually, and Oakland would have become the
largest coal-export city
on the West Coast. It also would have increased Oakland's culpability in contributing to greenhouse-gas emissions linked to climate change.
Environmental-justice activist Margaret Gordon, the co-director of the
West Oakland Environmental Indicators Project
, had long been working to ensure that the port development was done cleanly. Not only did she want the project to serve the economic and employment needs of West Oakland, but she also wanted to make sure that whatever goods flowed through it
would not pose a health risk
to residents already struggling.
"This struggle with the port goes back to 1994," says Gordon. "I've been focused on equity, health, and fair development, and for local, small, minority businesses having a piece of the pie of operations of the port of Oakland."
Other green groups, including the Asian Pacific Environmental Network, the San Francisco Baykeeper, Earthjustice, and the Sierra Club, also swiftly joined in on the fight, focusing on keeping coal out of Oakland. That was no surprise. These environmental groups have been fighting for the anti-coal cause across the U.S. for decades—and they currently have the
coal industry on the ropes
. The sucker punch to the would-be coal enterprise in Oakland, however, came from a sector you wouldn't normally expect: labor unions.
The Alameda Labor Council—a governing committee consisting of local union higher-ups that holds considerable political influence in Oakland—voted in last year
to oppose
Tagami's coal plans. They did this despite having labor agreements for the overall Oakland port redevelopment on the line. One of the leading labor voices against the coal deal came from the International Longshore and Warehouse Union, whose members would have directly benefitted from the coal agreement with Utah.
Derek Muhammad, the secretary-treasurer for the longshoremen's union, says it wasn't difficult for his members to take this stand against coal.
"We have been doing the grunt work and the dirty work in Oakland since the inception of our union, so working in a dangerous atmosphere is nothing new for longshoremen," says Muhammad. "But when we looked at all the medical evidence and the hazards of it for the larger community—and there are some of us from years past who've lost friends and loved ones due to inhaling asbestos and stuff like that— it became a no-brainer."
All of labor wasn't on the same page about this, though. In fact, the local Teamsters union, whose members control many of the construction jobs, were mostly for it. But when Oakland's city council took the vote to ban coal in June, Teamsters officials were not there to speak up. Some environmental and labor activists took that to mean they were standing down. But, as Marty Frates, the secretary-treasurer for the Teamsters tells Citylab, their members were actually in Las Vegas at the
national Teamsters convention
.
"Here's the bottom line: The whole issue should have been kept internal and the city should have vetted [the contracts with the developer]," says Frates. "We could be having nuclear waste going through Oakland and nobody knows about it. If you're going to vet coal, then lets look at everything that goes through Oakland."
Still, it was monumental that
any
labor reps took part in the protest
,
let alone that they played a leading role. The blue-green alliance formed in recent years among labor and environmentalists has not been ironclad. The AFL-CIO
would not join climate change activists
in their protests against the Keystone XL pipeline, worried about the jobs it might cost its members. And while the AFL-CIO did pledge to help billionaire Tom Steyer's political efforts in fighting climate change earlier this year,
eight major building-trade unions fired an angry letter
at AFL-CIO president Richard Trumpka for doing so.
Speaking out for social justice was nothing new for Muhammad's longshoremen, though. Muhammad points out that in the 1980s the union took a stand against apartheid by
refusing to handle any cargo from South Africa
at the port. More recently, they helped lead a campaign to improve fuel and diesel emissions among the goods-carrying trucks passing through Oakland.
"We started in this direction, but the coal thing was a quantum leap into what I suspect we will be weighing in on a lot of in the future," says Muhammad.
The Oakland fight against coal expanded well beyond labor, though. A number of traditionally non-green social justice groups stepped up for this fight. A teach-in held at the local SEIU headquarters last December was emblematic of this. There, a variety of activists came out to speak on a multitude of issues—gentrification, displacement, and the fight for a minimum wage of $15 among them—tying it all to the need to keep coal out of Oakland. It wasn't just a display of intersectionality; it was a constellation of forces converging.
"As we moved on, we realized that we had to stand in solidarity with other causes," says Brittany King, an organizer with the San Francisco Bay Chapter of the Sierra Club. "These people were concerned about the environment, and housing and community safety. So it became an issue of 'how do we help them get their message across and get our message across, as well?' We knew that if we could put our energy together then we would have a better chance of winning."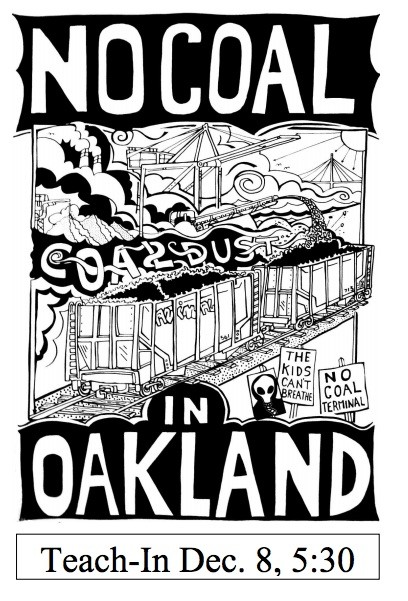 Scattered amid this network was the issue of racial justice. This is, after all, the same Oakland where the unarmed African-American man
Oscar Grant was shot and killed
by police officers in 2009. Oakland also has one of the
highest unemployment rates
for young
African-American men in the U.S. This last issue is one that people in support of the Utah coal deal were quick to seize upon.
When the city council held an open debate on their proposed coal ban before taking vote in June, some African Americans spoke in favor of allowing the coal deal to happen. The ordeal became framed as
creating
jobs and economic justice for out-of-work African Americans versus saving the environment.
However, as Darwin BondGraham reported for the
East Bay Express
, the developers involved with the Utah coal transaction had been
offering money and other favors
to certain black figures for their support. The pro-coal lobby even resorted to sending out
deceptive mailers
to black communities under the guise of a fake pro-labor group. One of the people approached was Gordon. But as a
former Oakland port commissioner
who has worked on these issues for the past 20 years, she was not easily duped, and turned them down.
"I expected for them to take it to a whole other level and turn to lying and deception," says Gordon. "I was prepared for that. I've seen it before. A lot of other projects on Oakland came with promises of jobs, going back to when the highway fell in the earthquake of 1989. They always talk about jobs, but these jobs never come to the residents of West Oakland who need them most."
The exploitation of racial justice was even more personal for Muhammad.
"Yeah, most of the environmentalists were white, and the the other side tried to say that those white people don't understand our struggle, and that they were just trying to gentrify West Oakland," says Muhammad. "But I was like, 'Wait, I'm black, and [coal pollution] affects black people, too. I don't want to be breathing that stuff, or work in that stuff. So don't try to say that only Caucasians are concerned about this.' Most of my local union is black, and we got a problem with it too."
(Source: http://www.citylab.com/work/2016/07/how-oakland-defeated-coal/489569/?utm_source=nl__link4_070516)