"I have a secret," said Jennifer Cohan.
Speaking on a panel at Volpe recently, the secretary of the
Delaware Department of Transportation
(DelDOT) stood up to reveal a bright red and blue Wonder Woman shirt underneath her blazer. Cohan sometimes wears the shirt as a reminder of her inner strength.
Building courage, strength, and leadership skills for women in transportation was the focus of the Women Transportation Leaders of the Northeast panel discussion, hosted April 28 by the U.S. Department of Transportation and Volpe.
The Path Finds You
"There is no one path to leadership in transportation," said Pollack, whose unshakeable curiosity in the power of public policy to shape communities brought her to the head of MassDOT. "None of us thought we would be here when we were in school."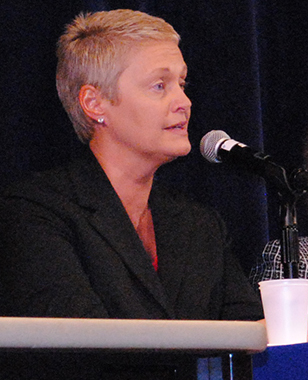 Cohan was just 16 years old when she started on the front lines of the Department of Motor Vehicles, where she eventually became the first female director before moving to DelDOT.
Sheehan grew up watching her father sell construction equipment in Ireland, and started her career working in maintenance and operations.
"I've always had an affinity for solving problems," Sheehan said. "I found that it was exhilarating to know that if a bridge is damaged, there is a short amount of time to find a solution to make repairs and get people back on the road."
For Richards, becoming involved in local politics was the catalyst for advancing her career. After staying home with her children while they were young, she returned to work at several engineering firms. When budgets for conferences were tight during the recession, she turned to politics to find networking opportunities.
"Getting involved in politics catapulted my career after taking time off," Richards said. "You don't have to run for office, but it is important to make connections."
Encourage Innovation
Encouraging innovation can be challenge when stepping into an organization with staff experience levels ranging from fresh out of school to decades of service.
While employees often want to try new things, many fear failure. Panelists advised cultivating talent at all levels. Let younger employees run with their enthusiasm to create a "trickle up" effect, but find ways to empower everyone, which may include bringing former employees back.
"A lot of people move back and forth between organizations in transportation," Pollack said. "That's a good thing."
Sharing stories of cutting-edge work is also crucial, both amongst staff and with external stakeholders. To encourage employees to share exciting work, Sheehan asks them to take photos of their projects.
"You must show that you're maximizing the value of money spent to be able to better advocate for funding in the future," Sheehan said.
Become a Leader and Own It
Becoming a leader requires a sort of duality: you must be able to both make big decisions and ask for help when you need it. It requires individual courage and a network of supporters.
Panelists advised that young women find mentors, not just sponsors, who can be supportive in both work and life decisions, and join organizations to help build connections.
"Volunteer for everything," Sheehan said. "There are only opportunities. People notice good work. The more we do, the more people notice–and those people will ultimately speak for you when the time comes."
Pollack echoed the importance of good work and taking ownership of achievements.
"The biggest challenge is that you must be willing to take credit for success," Pollack said. "To be a leader, you have to celebrate your successes, tout accomplishments, and own it."
Bring Everyone to the Table
Though it is important to create supportive work environments for women, panelists agreed that it also crucial to have everyone at the table.
"This is not just a female problem," Richards said. "We know there is data that shows that having a more diverse workforce equals better, more innovative outcomes for everyone."
The Women Transportation Leaders of the Northeast panel was sponsored by AASHTO/NASTO, ACEC, MassDOT, Transportation for Massachusetts, BSCE, MIT Transportation Club, New England ITE, WTS-Boston, City of Cambridge, CIM, COMTO, and TRB.
Updated: Tuesday, May 31, 2016
(Source: https://www.volpe.dot.gov/news/top-ranking-women-transportation-share-career-advice?utm_source=GovDelivery&utm_medium=Email&utm_campaign=May%202016%20newsletter)