Transportation is our lifeblood. It gets us where we need to be, whether it's to work, to meet friends, to enjoy our kids' baseball games or be home with our families.
It's funny, but when it works best, we almost forget about transportation. It's always there. It's reliable. We don't need to think about it.
Unfortunately, everyday transportation has become even more challenging as our cities grow. Congestion, cost, proximity, or the ability to physically access some vehicles are hurdles. These barriers, like a purchasing or driving a car, are even higher for our most vulnerable communities – the working poor, children, seniors, and people with disabilities.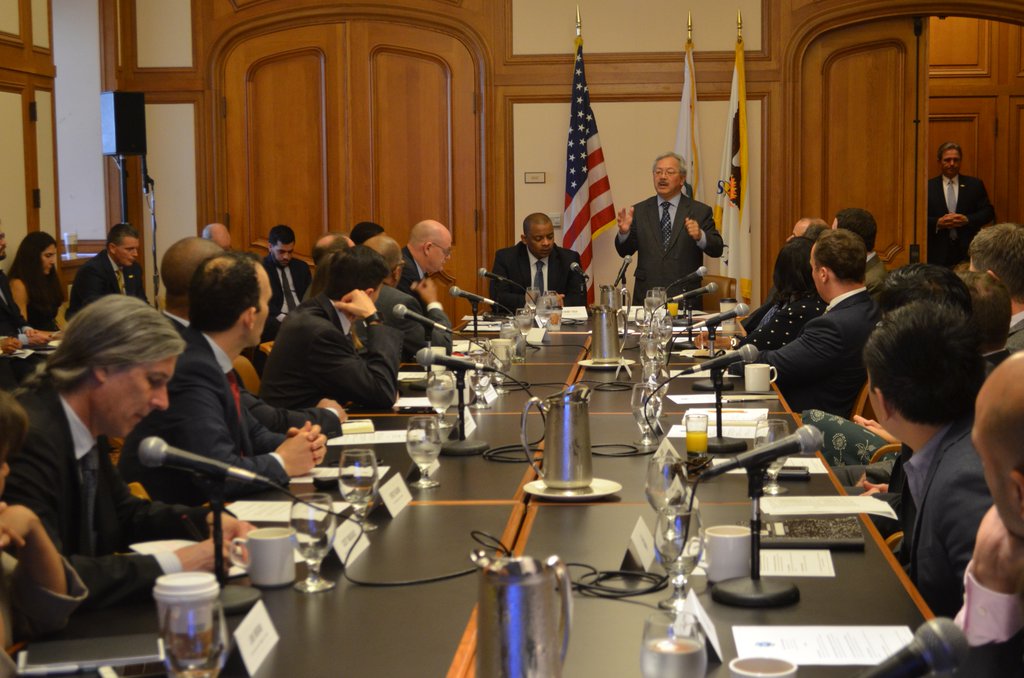 More than 30 representatives from leading technology and mobility companies; UC Berkeley; and local, regional and state government joined Mayor Ed Lee and U.S. Transportation Secretary Anthony Foxx on May 18 to discuss Foxx's Smart City Challenge.
San Francisco has worked for years to solve these problems, and we've made great strides. Now we are on the cusp of a whole new level of transportation equity.
The catalyst is the Smart City Challenge. The U.S. Department of Transportation and Vulcan have pledged up to $50 million to one city to help define what it means to be a "Smart City" and become the country's first city to fully integrate innovative technologies – like self-driving cars and connected vehicles – into their transportation network.
Harnessing the power of technology to benefit everyone in our city, and then sharing those lessons around the world, is what San Francisco does best.
We were honored to host U.S. Transportation Secretary Anthony Foxx and his team on Wednesday, May 18, here in San Francisco to share some of our ideas on partnering with the U.S. Department of Transportation, private industry, our communities and some of the brightest minds in academia as part of the Smart City Challenge.
I want to personally thank Secretary Foxx for his leadership in launching the Smart City Challenge, spurring cities to think about our common transportation future.
Series of Pilots
We know there is no silver bullet to solving our nation's transportation and equity problems, but there is a lot we can do.
San Francisco's plan is simple. It's a series of pilot programs to figure out what works – and what doesn't – that gradually move us toward a future where shared options link everyone easily, safely and affordably to where they need to go. These pilot programs will incubate the changes needed so that San Francisco can unlock the benefits of shared, integrated transportation. We will create a playbook that anyone can follow.
I'm talking about things like bike sharing; transit; and shared, electric, connected, self-driving vehicles all linked together in one easy-to-use smart phone app that handles routing, scheduling and payment. Encouraging shared options will bridge transportation gaps, seamlessly linking people to transit or getting them to their nearby destination.
We know that low-income residents often suffer from time poverty. Time spent traveling is time not spent helping their kids with homework, taking classes to improve their skills, or working extra hours to help them get by. One pilot would focus on service workers who get off late at night after many transit options have shut down. Creating a shared shuttle option with priority access to travel lanes would provide workers a safe and affordable means to get home. That allows them to focus on their lives rather than worrying about making it home.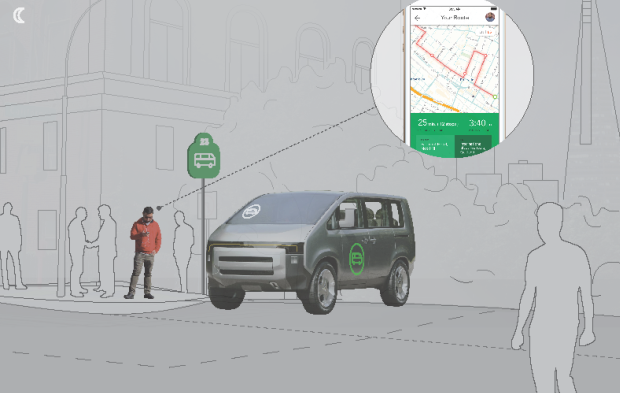 A rendering of a late-night shuttle that can be summoned from a comprehensive mobility app so that service workers can get home affordably, reliably and safely. The shuttle service, part of San Francisco's Smart City Challenge proposal, would get East Bay workers home easily afterhours when the regional rail system is closed. The shuttles would use smart, data-responsive routing options and signal priority to get quick access to the freeway.
Digital Equity
Many of our pilots focus on digital equity, enabling low-income residents to access new transportation services, even if they currently don't have a bank account or data plans on their mobile phones. According to the
Pew Research Center

[external link]
, 92 percent of all adults in the U.S. have a cell phone, and 68 percent have a smartphone. But many can't afford the data plan. We will build a mesh network with Wi-Fi transponders on transit, taxi and other vehicles to help people that can't afford a data plan access these new transportation options.
These pilots will also make our streets safer, like adding collision-avoidance technology to vehicles and electronically linking vehicles to each other to prevent crashes.
San Francisco is taking a unique approach to these programs. We will let communities decide where they want these benefits by working with neighborhoods that volunteer through our Community Mobility Challenge program.
Rethinking our transportation system can also help solve our housing crisis. As more and more people choose shared mobility options, parking won't be needed allowing 440,000 on-street parking spaces and parking lots to become playgrounds or affordable housing. With more affordable housing, we can prevent dislocation. These changes would rebuild the social fabric of neighborhoods, connecting people to their communities.
We're partnering with some of the brightest minds in the country to make this happen.
UC Berkeley, with its Transportation Sustainability Research Center and Institute of Transportation Studies, along with its partnership with the Lawrence Berkeley National Laboratory, provides unparalleled technical expertise and an academic infrastructure to share what we learn with a network of over 25,000 transportation professionals.
Our public innovation is matched by the ingenuity of our private companies. San Francisco is the startup capital of the world. Private partners large and small have pledged $150 million in services like software or research and development to roughly quadruple the possible investment from Department of Transportation Smart City funding. Let's build the equitable transportation system of the future so that everyone benefits.
(Source: https://www.transportation.gov/fastlane/shaping-transportation-technology-benefit-everyone)