All month at the Department of Transportation, we're highlighting how the past 50 years of innovation have transformed the way in which we move people and goods across the country and around the world. We're also looking ahead at the ways in which advancements in technology are allowing us to work toward 50 more years of forward-thinking innovation that will continue to keep us on the forefront of game-changing transportation.
But we can't just talk about it – we must be proactive in our approach, and so we've put ourselves to the test. Today at the U.S.-China Transportation Forum in Los Angeles, we launched the Race to Zero Emissions (R2ZE) Challenge. This collaborative and friendly competition encourages transit agencies here in the United States and China to deploy innovative, advanced, non-polluting Zero Emission Buses (ZEBs) with the target of having such buses make up at least 35% of our fleets by 2025. In doing so, we aim to reduce greenhouse gas and emissions while fostering demand for zero emission, heavy-duty vehicle technology.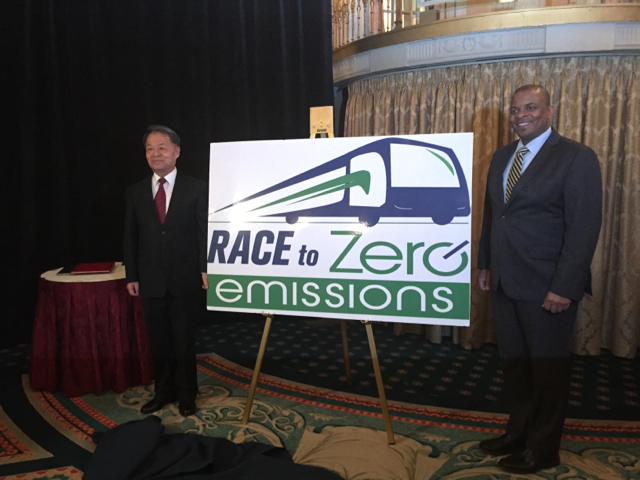 Zero emission vehicles create proven benefits for the environment, businesses, and fleet operations including pollutant reduction, better energy efficiency than conventional buses, operational/maintenance cost savings, market acceleration and job creation. In fact, a growing number of United States and Chinese manufacturers are working to improve the economics of ZEBs to make them even more cost-competitive with conventional buses. ZEB technologies include hydrogen fuel cells, batteries, and various plug-in hybrid combinations.
At this point, you might be wondering, "Where we are now and what progress has been made?"
I'm proud to say that U.S. is a leader in zero emission technology with programs like FTA's Low or No Emission Vehicle Deployment Program (LoNo). Low-No helps local public transportation agencies in the U.S. upgrade their bus fleets and facilities to hybrid, battery-electric, fuel cell, and other low or no emissions engine technologies. Thanks to LoNo and its predecessor programs (the Clean Fuels Grant Program and Transit Investments for Greenhouse Gas and Energy Reduction) the U.S. currently has over 300 individual zero emission buses operating in transit fleets throughout the country.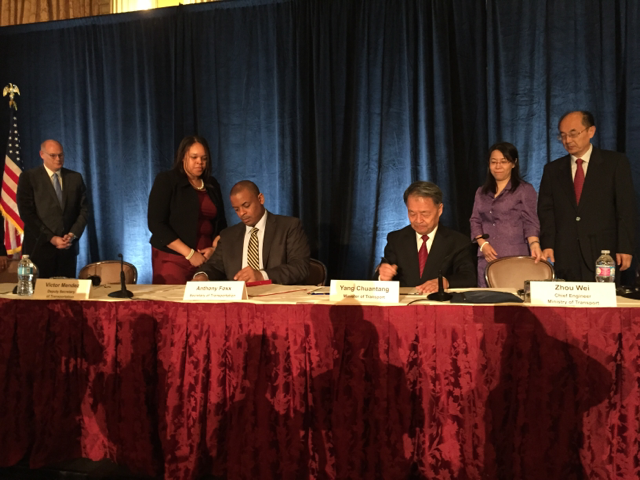 As two of the world's largest producers of greenhouse gases, the U.S. and China both have substantial emissions in the transportation sector. Our two nations are working closely together to address this challenge, and today Minister of Transport Yang Chuantang and I signed a Memorandum of Cooperation further cementing this partnership and collaboration in these areas of mutual interest.
The U.S. and China already have a great cooperative relationship in a number of transportation related areas, as evidenced by the Transportation Forum, and with this agreement, we are taking this cooperation to the next level and continuing our progress towards our shared goals for the future of transportation.
(Source: https://www.transportation.gov/fastlane/your-marks-get-set-zero)