The final hurdle for the $50 million Smart Cities Challenge was a little goofy.
Jun 10, 2016

U.S. Transportation Secretary Anthony Foxx.

(REUTERS/Larry Downing)



The Washington, D.C., neighborhood of Shaw isn't generally where you'd expect to find the Department of Transportation holding a workday event. It's hip, as the District goes. Some of the better bars and talked-about eateries line Ninth Street's commercial strip. Just behind them, sleek cafes and indie art spaces dot a semi-hidden network of brick alleyways.
But on Thursday afternoon, federal workers in dark suits milled around an industrial-chic gallery, where the U.S. Transportation Secretary Anthony Foxx was holding the final pitch event for his
Smart Cities Challenge
. Seven mayors of mid-sized American cities stood up and made their cases, in 10-minute lightning-rounds, for why their particular
plans to improve mobility, safety, and equity with the likes of connected vehicles, street sensors, and real-time transit data most deserve $40 million in DOT funding, plus
another $10 million from Vulcan Inc
. The winning city will also receive many millions more in add-on technology provided by various underwriters, including
transit kiosks from Google's Sidewalk Labs
, vehicle-collision sensors from Mobileye, and
modeling software
from Autodesk.
"This is not normal government space," Foxx said in his opening address. "This is not a normal government challenge."
The optics and the format made that very plain. And in many ways, the Smart Cities Challenge
hasn't
worked like federal projects normally do.
The partnerships with private backers is one example.
Foxx's intense personal involvement, and the speed with which the challenge has moved, are two others. After the challenge was announced in December 2015, 78 cities sent in proposals
.
San Francisco, Austin, Portland, Pittsburgh, Denver, Kansas City, and Columbus were selected as finalists in March, and the winner is set to be announced sometime this month.
It's a noble goal, as Foxx said in his address, to "open up the consideration process to the public" through this kind of event (
plus an accompanying live-stream
). "Transportation does not need to be a stodgy subject," he told CityLab afterwards. "It's not just about concrete and steel. It's about how people want to live."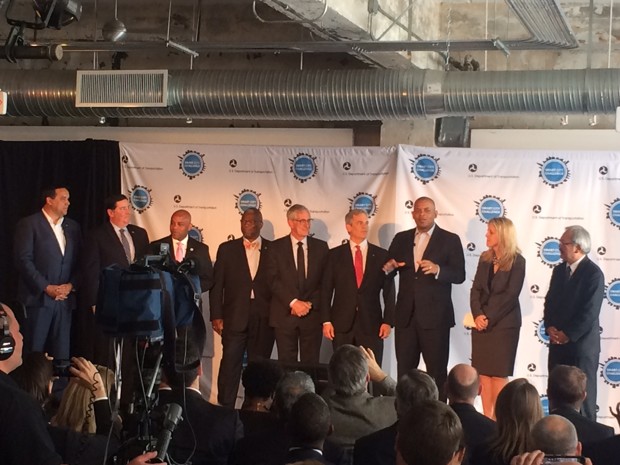 The mayors line up with U.S. Secretary of Transportation Anthony Foxx (third from right). (Laura Bliss/CityLab)
But it was also plenty goofy, watching these mayors pace (or stand very, very still) on a Ted Talk-style bare stage, addressing Foxx in the role of angel investor, as fake traffic lights flashed yellow and red to signal time limits. Mainly, the mayors trotted out broad, fluffy narratives about "collaborating" and "innovating" to deliver the "results" and "equity" their cities need. For better or worse, some tried to set themselves apart without using the specifics of their proposals: San Francisco Mayor Ed Lee spent a lot of his 10 minutes talking about the 70 companies that have already pledged to work with his city if it wins the challenge. Austin Mayor Steve Adler appealed strongly to his personal relationship with Foxx. Pittsburgh Mayor Bill Peduto got a "Let's go Bucs!" cheer from the audience before walked on, and spent a lot of time comparing the his citizens' commitment to their city to their commitment to their sports teams.
Only two—Denver Mayor Michael Hancock and Kansas City Mayor Sly James—spent much time elucidating the concrete aspects of their cities' proposals, which include universal transit cards and semi-autonomous buses, respectively. (All of the finalists have
concrete, technical "smart cities" plans
at this point; I recently profiled Columbus'
efforts to reduce infant mortality
through BRT.)
The mayors certainly seemed to enjoy the slightly hokey spotlight. "Entrepreneurs aren't confined to people in skinny jeans," Sly James said during a mayoral photo line-up after the event. "This whole process allowed us to put our internal entrepreneurs on the line and on display."
Portland Mayor Charlie Hales agreed. "I think the mayors enjoyed being in the temporary role of being competitors," he told me. "We're normally not. We're always collaborating… and that will reassert itself after the competition is over."
Which is one of the best parts about this whole challenge: Many of the mayors pledged to use part of their award, if they win, to develop "playbooks" for building smart cities, so that other cities can benefit from their success. This isn't the cutthroat world of venture-capital funding. It's not winner-takes-all. No exposed-brick gallery can disguise the fact that this is a federal granting process undertaken by a crew of transportation nerds, with the public in mind. And that's a good thing.
(Source: http://www.citylab.com/commute/2016/06/smart-cities-challenge-pitch-event-dot/486434/?utm_source=nl__link5_061016)