"Economic growth is easy, but inclusion is harder."
/

Jun 17, 2016



How do we build cities in which everyone—regardless of gender, sexual orientation, race, age, or ability—can live and thrive?
Unfortunately, no silver-bullet answers or cookie-cutter solutions exist. But there are some imitable strategies that cities and citizens around the world are employing, and some of these were
discussed
at the Brookings Institution on Thursday.
The discussion was kicked off by Ángel Gurría, secretary general of the Organization of Economic Cooperation and Development (OECD), which launched its
Inclusive Growth in Cities Campaign
in partnership with the Ford Foundation
earlier this year
. This initiative brings together city leaders from around the world with the explicit purpose of tackling urban inequality. Gurría was followed by a panel discussion with leaders from private, public, tech, and business sectors who have tried out new and interesting approaches in their respective fields with some success.
Based on this discussion, here are four preliminary steps on the path toward inclusive development:
Step 1: Acknowledge the problem
Cities are the hubs of
global innovation, power, and economy
. That positions them perfectly to lead the charge for a more equal society, especially in an era of political impasses at the national level,
Amy Liu
, the vice president of Brookings' Metropolitan Policy Program noted at the event. And the first, most important move in that regard is for cities to examine closely how inclusive—or not inclusive—they currently are.
Brookings'
metro monitor report
is one indicator of how far cities have come with respect to economic inclusion. According to its findings, nearly all large U.S. metros have seen a boost in jobs and economic output in the years since the recession. But when it comes to economic inclusion—defined here as the well-being of the middle- and low-income residents—only eight metros "saw across-the-board improvements" between 2009 and 2014, the report reads. Charleston, Chicago, Dayton, Denver, Provo, Salt Lake City, San Jose, and Tulsa were the only U.S. metros that experienced rises in median wages and employment rates, as well as declines in poverty. But even in these cities, racial disparities persisted. And n 80 out of 100 largest U.S. metros, median wages actually declined in this period.
"Economic growth is easy, but inclusion is harder," Liu said at the discussion. "We need to be much more intentional about how we extend the benefits of growth and engage more people in our prosperity."
Here's a map from that report, of the U.S. metros ranked by the relative progress they've made on economic inclusion between 2009 and 2014. (Brookings also has an interactive tool with charts and maps showing rankings for inclusion by by race
here
.)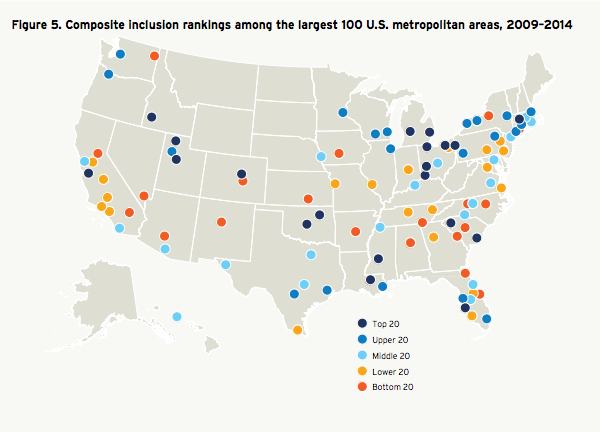 Of course,
economic inequality
is just one frontier cities have to brave: "Income inequality and poverty are important issues we need to work on," Antoinette Samuel, the deputy director of the
National League of Cities
said at the Brookings event. "'Inclusiveness' means affordability and non-discrimination in housing so that neighborhoods are diverse and representative of a city's population; It means acceptance of new immigrants and respecting and celebrating their culture and religious traditions. And … protecting the rights of the LGBT community and promoting religious tolerance."


Step 2: Push for transit-oriented development
With respect to policy solutions, priorities differ for each city in the U.S. But it's safe to say that every single one needs to do a better job with providing
affordable housing
, transit access, and safe and up-to-date infrastructure. "Mayors tell us that affordable housing is one of the biggest challenges, and the topic remains on the top of the urban agenda," Gurría said. "But it's too often divorced from a broader strategy for urban development and transport and access to services. So we need housing policies that aim to build cities, rather than build houses."
Dow Constantine
, the executive of King County in Washington state (which includes Seattle) stressed the need to invest in transit options that connect low-income
communities at the edges of big cities
to their jobs in the urban core, and the importance of making room for affordable housing near already-existing transit infrastructure. He also gave the example of his government's scheme to
reduce bus fares
for low-income riders as a program that helped reduce barriers to transit access.
But making sure no communities are being overlooked is an active, continuous process, according to Cecile Bedor, the executive vice president at
Greater MSP
, a Minneapolis-Saint Paul-based nonprofit that works on economic development in the region. "Ultimately, [Transit Oriented Development] around light rail and ensuring that there's housing for all and choices for all really only happens with intentional policy by elected officials," she said at the discussion. "The market's going to do what the market does … [W]e really need to make sure the pressure is on our elected officials to ensure that it is inclusive growth."


Step 3: Invest in people, and "be nimble"
Investing in the future of a city necessitates investing in its residents starting from a very early age. Constantine, for example, mentioned King County's
Best Start for Kids
, which is a multi-faceted approach to early childhood education
.
It provides a range of services, from prenatal support to educational resources for teens.
As for the adult population, special care needs to be taken to fold women, new immigrants, and communities of color into the labor force. Paid family leave and equal-pay policies are a couple of ways women can enter, and stay, in the workforce. And skill-development, training, and entrepreneurship programs for communities of color (including those available in multiple languages for immigrants) can help prepare these historically disadvantaged groups for the job market.
"Minorities, and women and immigrants suffer from intentional or unintentional invisibility that is often met with tokenism," Rodney Sampson, chairman at
Opportunity Hub
and head of diversity and inclusion initiatives at
Tech Square Labs
in Atlanta, said at the event. "We need to hack and disrupt that mindset." Sampson's organization partners with Atlanta public schools to train "
disconnected youth
" in coding languages, computational skills, and financial literacy. It also provides them with housing, a living stipend, and connects them to prospective employers.
But what all workers ultimately need to thrive depends on their location. To that end, JP Morgan Chase
has been working with Brookings to publish data
that helps cities around the world understand what industries are growing, and what jobs are being created within them. But that landscape is also changing very quickly, and cities need to make sure they're keeping up. "The systems that we build a decade ago don't work today because of the changes in technology, globalization, and automation," Bedor, from Greater MSP, said at the discussion. "We also need to be really nimble and know that what we're training [for] today may not be what they need tomorrow. So it's not a speck in time—this is an iterative process."
Step 4: Make sure everyone is at the table
This last step may seem obvious, but it's still not a common enough practice. In many cases, the very people for whom planners and local governments are building cities
are not included in the conversation
. Changing this means collaborating across platforms, sectors, agendas, and interests. Because ultimately, it's in everyone's interest to ensure that no one is left behind.
(Source: http://www.citylab.com/housing/2016/06/how-to-build-inclusive-cities/487322/?utm_source=nl__link3_061716)