Broken sidewalks and inaccessible buildings can make for daunting trips, but a slew of mobile applications could change that.
It was only when Jason DaSilva began navigating New York City with a walker—and eventually in a motorized wheelchair—that he realized how much he had once taken for granted. He'd formerly had no problem spontaneously heading out for coffee or to run an errand. Suddenly, it wasn't so easy to hop on the subway, or make it up the two steps to get into a restaurant.
The 37-year-old filmmaker recently won an Emmy for
When I Walk
, a documentary chronicling his life with multiple sclerosis. DaSilva was diagnosed in 2005, and the disease has affected his vision, hearing, and muscle control. "Living in the East Village, I was finding that it could be 9 out of 10 businesses on a city block that would be inaccessible to me," he tells CityLab.

Sometimes public and private business fail to accommodate wheelchair users or guide dogs, despite the 1990 passage of the Americans With Disabilities Act, which laid out standards for making public areas accessible.
For the estimated 53 million U.S. adults living with disabilities, moving through a city may feel like an obstacle course. Hilly terrain can prove daunting for people with impaired mobility. Then there's the problem of busted sidewalks—over which cities like
Seattle
and
Los Angeles
have faced lawsuits—as well as poorly designed curb cuts or ramps.
The trouble with conventional technology
Currently, assistance available to people with disabilities is "pretty dismal" says Anat Caspi, a researcher at the
Taskar Center for Accessible Technology
at the University of Washington. "Because of ADA compliance, a lot of communities or institutions like universities might generate [accessibility maps]," she says. "The problem is, everything is static on a PDF, and you can't change it as conditions change, or customize it to a particular individual's needs."
The other problem is that streets and pathways don't stay static. In a city like Seattle, which is undergoing a building boom, construction sites frequently pop up, blocking pathways, closing sidewalks, and catching pedestrians by surprise. Jacob Struksma, a Seattle resident who is blind, voiced his frustration to the
Seattle Weekly:
In particular, rampant sidewalk closures have made the difficult task of getting from point A to point B all the more so, forcing Struiksma to turn around halfway down a long downtown block and find another path—not to mention the makeshift walkways and shoddy barriers to dangerous sites.
"I've had construction workers yell at me and push me," he says. "I've run into it all over the city. It's a problem on every single block of the city.
Popular navigation apps including Google Maps and Tom Tom haven't filled in the gaps, as they've been designed to describe the road system. So even when Google generates a footpath, Caspi says, the sidewalks are just attributes of automobile routes.
DaSilva's disease began to progress around the time he got his first iPhone, which he hoped would planning trips easier. Initially, he turned to apps such as Yelp, but found them unhelpful. "I would find a place and they would give me the wrong information," DaSilva says. "They would say, 'Yeah, we're accessible,' but I'd get there and find out that there was a step, or that the bathroom is down a flight of stairs."
Filling in the gap with accessibility apps
Caspi and DaSilva join a growing community of entrepreneurs and researchers looking to technology to fill these gaps.
WheelyApp
, for example, aims to help New Yorkers navigate the subway. And
ChiSafePath
is an app that allows users in Chicago to report things like broken sidewalks and other obstructions.
DaSilva's
AXS Map
, which launched in 2012, addresses the problem of inaccessible buildings.
Meeting up with friends became more difficult for DaSilva, a social butterfly. This was a devastating blow. That's when he created AXS Map, a mobile and web app
that allows users to rate businesses based on how accessible they are: How many steps are at the entrance? Do they have space to fit a wheelchair? Are there bathrooms with appropriate access? Much like on Yelp, businesses are given ratings out of five stars based on how accessible they are.
"I came up with the idea of having something that would be accessible and usable by people with all different kinds of disabilities," says DaSilva, "not just mobility." There are still many places that have yet to be rated, but DaSilva says that the more users join, the more informative the app will become.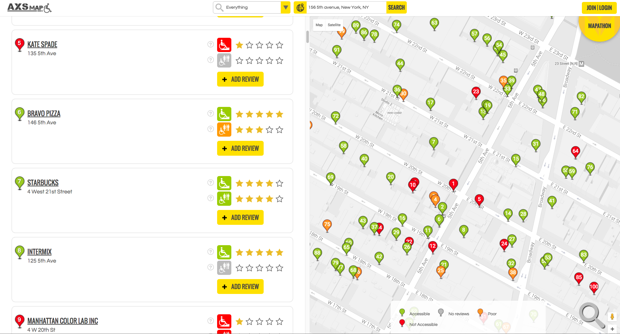 Earlier this month Caspi and a team of developers from University of Washington began pilot testing a new interactive map for Seattle called
AccessMap Seattle
.
It's the first of its kind, according to Caspi. And one of its most important features is mapping out the elevation levels of all of the city's sidewalks using publicly available information.
"Seattle is a very hilly terrain, and elevation changes are things that people can't necessarily anticipate unless they consulted a topological map," she says. "[Having] foreknowledge of how high a grade they are going to have to scale or descend makes a huge difference."
The map is simple to use: Search a particular street, and it will show you three colors. Red denotes a steep slope, yellow is moderate, and green means the ground is relatively level. For those with the mobile app, Caspi and her team are working on a feature that will allow users to map out their route.
The map will also provide information about the location of bus stops, curb ramps, public elevators, and, when government data becomes available, updates on new construction sites.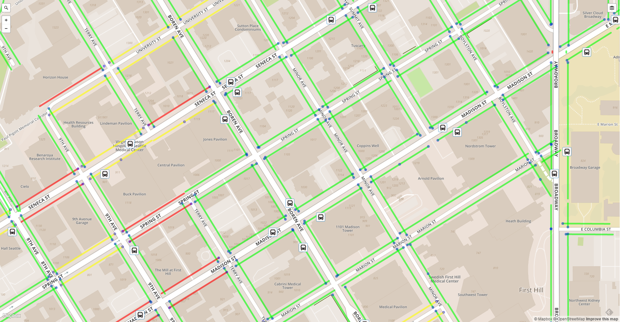 The future of accessibility maps
That's just the beginning, says Caspi. Her team is looking to collaborate with
Open Street Map
to create a data layer with information just for pedestrians. This information could then be applied to a map of any city as data becomes available. If successful, it wouldn't be a tool only for people with disabilities, but for anyone who wants more control over their trip route.
DaSilva is also working to take their AXS Map to a new level by integrating it with cutting-edge technology like visual augmented reality. The team was recently
named
the winner of the
Made in New York Media Center by IFP's
Demo Day, where they presented a virtual-reality version of their app that would allow users to tour sites from their homes.
That application could instill a sense of confidence in, for instance, a child with developmental delays.
"To be able to cross the street to go to the park, some have never done it before, and they have a lot of anxiety about that," he says. "They can practice that several times [with AXS Map] before he actually gets out there and makes it a reality."
For Caspi, the ultimate aim is to make people, with or without disabilities, feel independent; they can plan trips on the fly instead of three days in advance. "This is a form of freedom that we often overlook because we don't have to think about these things, but a lot of times communities do," she says. "That's kind of the burden that I would like to alleviate."
(Source: http://www.citylab.com/navigator/2016/06/how-apps-help-people-with-disabilities-navigate-the-city/489128/?utm_source=nl__link5_063016)