Almost 6 months ago,
we launched the Smart City Challenge
to ignite innovation nationwide. Over 78 cities raised their hand to become the country's first to fully integrate innovative technologies – self-driving cars, connected vehicles, and smart sensors – into their transportation network. Our finalists in Austin, TX; Columbus, OH; Denver, CO; Kansas City, MO; Pittsburgh, PA; Portland, OR; and San Francisco, CA exhibited outstanding potential to transform the future of urban transportation and I'm excited to touch down in these cities next week learn more about their unique visions for the future.
Since our last
check-in
, representatives from each city came to Washington to brainstorm and share ideas as a group. So, as we close in on the final submission deadline,
I'll be on the ground
to see their progress and have frank conversations about their transportation challenges and discuss their ideas to tackle them.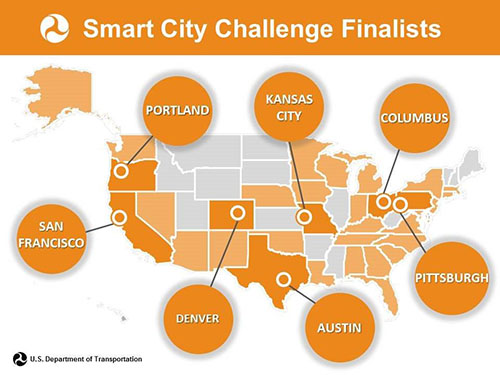 The first phase of the Challenge called for an overview of each city's plan to address transportation challenges; however, the winning city will be selected based on its ability to think big, and provide a detailed roadmap on how it will integrate new technologies to demonstrate what the future of transportation looks like in action. Finalist cities must also demonstrate how their plans will reach different demographics across the city, ensuring that people from all areas and levels of income will enjoy the benefits of living in a "Smart City."
In short, I'm looking for widely ambitious goals for what will be the 'City of the Future' because, with the help of our sponsors, the winning city will truly be transformed.
Paul G. Allen's Vulcan Inc. is offering an additional $10 million to the winning city to demonstrate "what's possible" by transforming a city's transportation system into one that is electrified and low-carbon. Mobileye will equip the winning city's public bus system with their Mobileye's Shield +
TM
which helps bus drivers avoid and mitigate imminent collisions and protect road users including bicyclists, pedestrians, and motorcyclists. Autodesk will provide finalists with access to (and training on)
Infraworks 360
, a modeling platform that uses 3-D visualizations and real-world data to plan major engineering projects.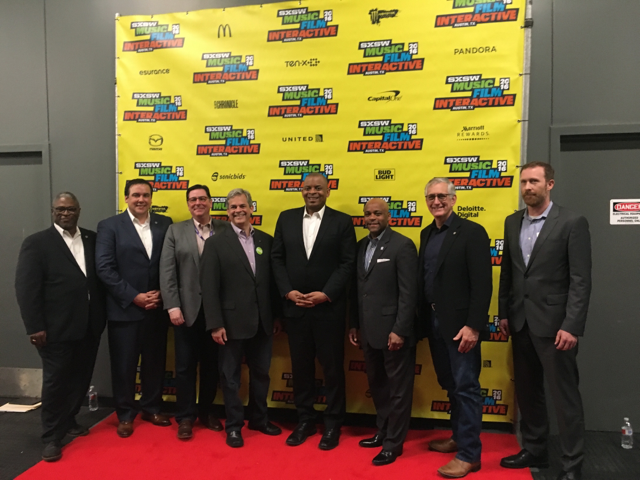 But, it doesn't stop there.
NXP has pledged to equip the winning city with wireless communication modules that allow cars to securely exchange data, such as hazard warnings, over distances of more than a mile to prevent accidents and improve traffic flow. Amazon Web Services will provide solution architecture and best practices guidance to the finalists to help them leverage AWS services for Smart City solutions, as well as award $1 Million of credits to the Challenge winner for AWS Cloud services and AWS Professional Services. And, Alphabet's Side Walk Labs - in addition to building a mobility platform, Sidewalk Labs will install over 100 kiosks in four neighborhoods (approximately 25 blocks) of the winning city.
So the stakes are high – but not just for the winning city. The advancements, innovation and ideas that have sparked through this challenge will hopefully resonate within state and local leadership across our nation. The way in which we move people and goods will have to change, it's inevitable. As we rethink our transportation system in preparation for the future we must make room for precedent setting, cutting-edge solutions that ignites widespread change.
(Source: https://www.transportation.gov/fastlane/next-city-future)