Each day on this blog we highlight the ways in which transportation has connected us as a nation. Just think, before our highway system, that cross-country road trip you are planning for the summer would have been nearly impossible.
But today, in my speech at the Center for American Progress, I sought to inform on how past transportation infrastructure decisions have divided us.
Nothing in our built environment is accidental. And it's no different in transportation – intentional design can be seen in all forms of transportation infrastructure – transit systems, airports, railroads and ports. But this intentional design is especially evident in our nation's highway system.
Looking back, over 60 years ago, when President Eisenhower launched our Interstate highway program he couldn't have predicted this expansive road network would be the economic driver it has become. However, we now also know that our urban freeways were often deliberately routed through low-income and minority neighborhoods.
What previous decision-makers thought of poor and minority communities was reflected in where and how they built our transportation infrastructure – certain values of that time are still embedded in that infrastructure today.
The same federal, state, and local governments that created these problems have an equally powerful ability to solve them. At its best, transportation is a tool for economic mobility.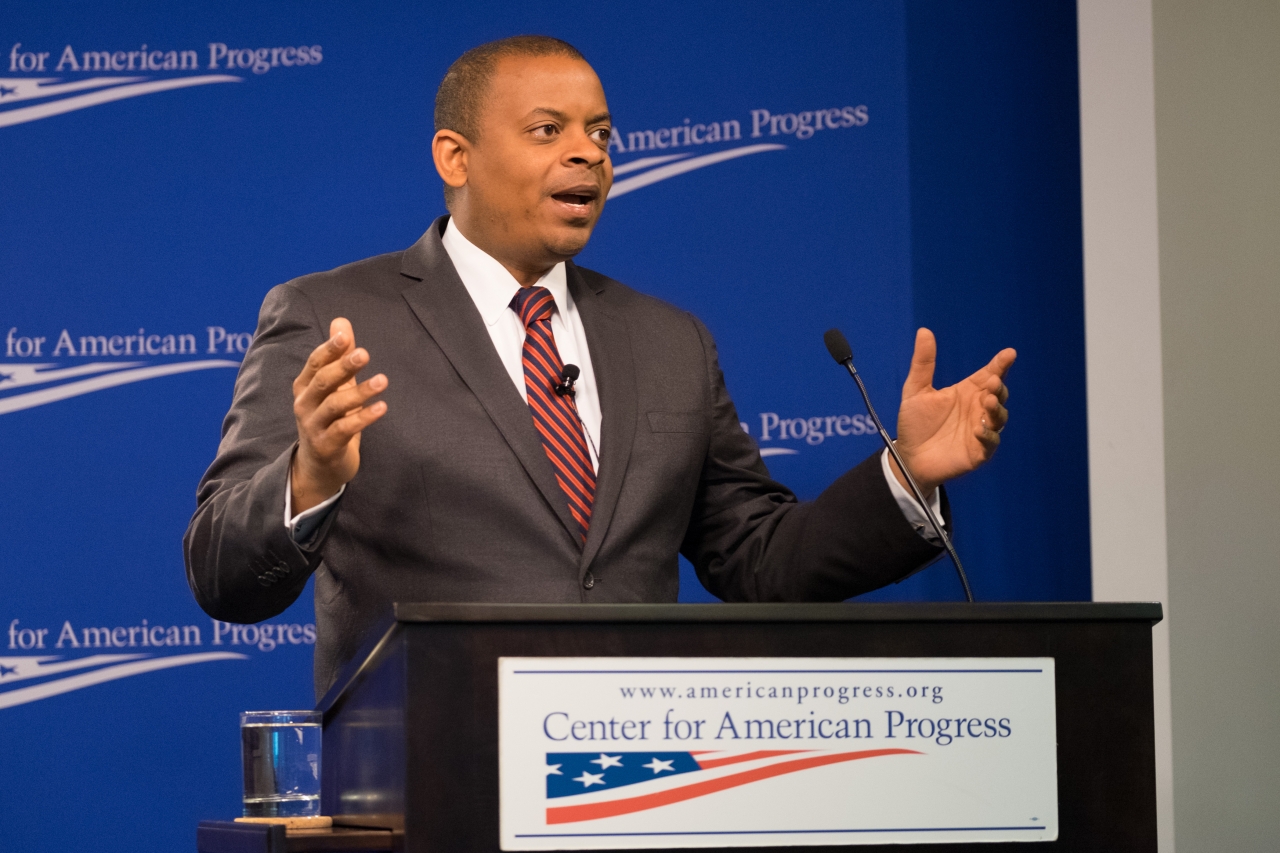 Photo courtesy of Center for American Progress
So I've taken the lead.
I've put forth a vision to bridge this divide—principles for connecting people to opportunity. With these principles, we can make our infrastructure the connective tissue it should be, safeguard our communities, and fill the chasm between income inequality and opportunity.
These principles were developed through years of work at the Department that have yielded game-changing programs and policy. All of which continually promote
Ladders of Opportunity
. Just yesterday, we highlighted
FTA's Bus and Bus Facilities Grants
that will expand transit services to disadvantaged and low-income individuals, veterans, youths and others to local workforce training, employment, health care, and other vital services. The most recent rounds of
TIGER grants
prioritized projects that strengthen access to opportunities. In Detroit, MI, we gave $37 million to complete their downtown streetcar system, which will now connect the city's downtown business district to its other economic, cultural, civic assets.
LadderS

TEP
has provided technical assistance in seven cities across the nation that are now seeing essential transportation infrastructure development and transformative economic investment.
What's more is we've provided tools that help to build capacity. The Federal Highway Administration's
Transportation Decision-making Guide
helps the public understand how transportation decisions are made at the local, State, and national levels and how to take advantage of the opportunities provided.
So far, a bi-partisan group of governors and mayors have already signaled their support for these principles, coupled with your support, we have proof than an inclusive and innovative transportation system is not an impossibility or far from being a reality.
---
(Source: https://www.transportation.gov/fastlane/secrets-out-transportation-missing-link-path-opportunity)