Yesterday was an exciting day because it was my first visit as Secretary of Transportation to the great state of Montana and its Indian Country. In Pablo, I was honored to meet with the Tribal Council, officials, and members of the Confederated Salish and Kootenai Tribes of the Flathead Reservation. The Confederated Salish and Kootenai Tribes work closely with our Federal Highway Administration's
Tribal Transportation Program
and our Federal Transit Administration's
Tribal Transit Program
, so I was able to hear directly from the Tribe about their transportation concerns, priorities, and successes.
As you've read here, and probably heard me say, transportation is a community function. If it doesn't work for the entire community, the system doesn't work. And that includes Indian Country, which is far too often left out of the conversation. During the roundtable meeting, I talked about our new
Every Place Counts Design Challenge
, which seeks to raise awareness about neighborhoods that have been divided rather than connected by transportation infrastructure, and identify innovative practices to reconnect these communities as they grow. We're currently accepting applications from local and tribal governments and the four winning applicants will receive on-site Technical Assistance from USDOT over a two day design session.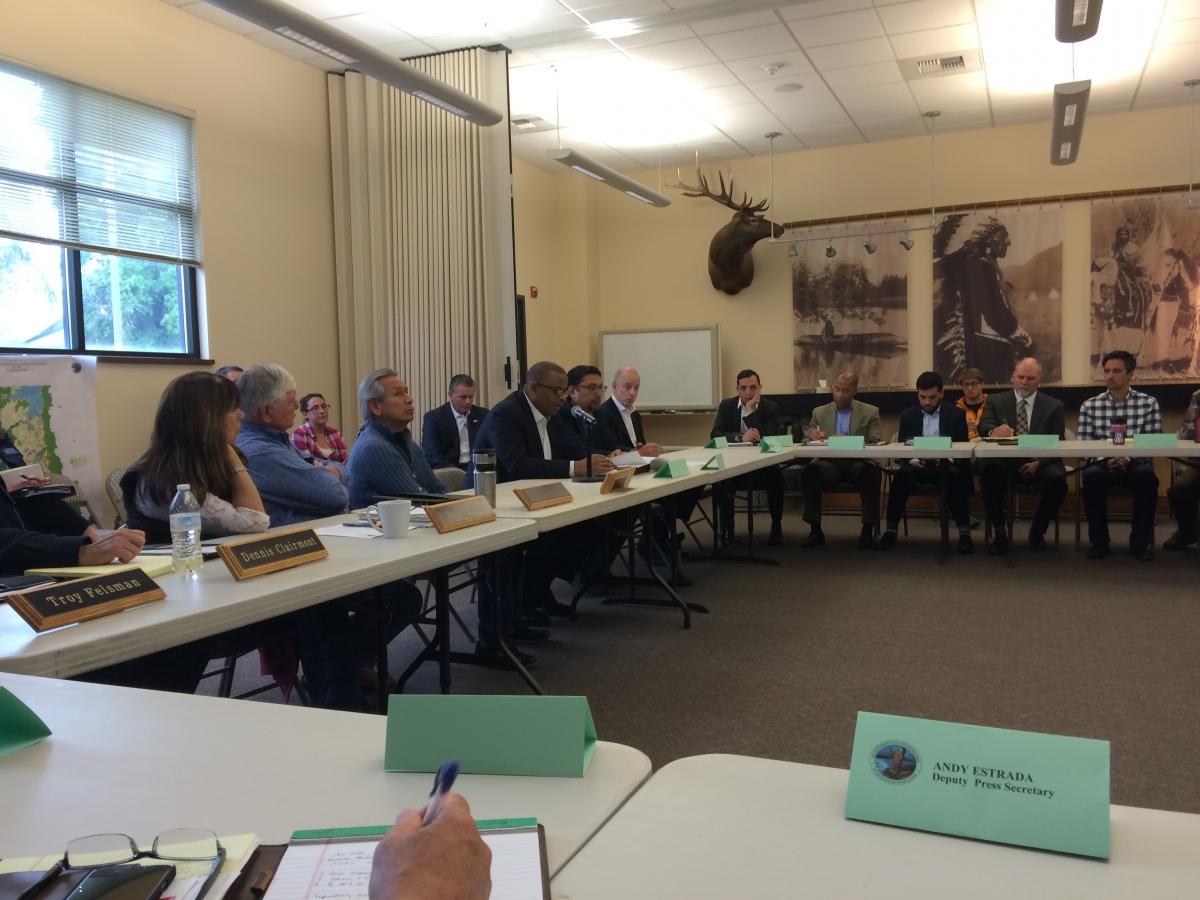 Another important development here at USDOT is the work that is getting underway to establish and carry out the Tribal Transportation Self-Governance Program, as required by the FAST Act. The program will serve as a one-stop shop for participating Tribal Governments to gain access to and information about tribal transportation programs and opportunities throughout the Department. Late last month we published a
notice in the Federal Register
announcing our intent to establish the Tribal Transportation Self-Governance Program negotiated rulemaking committee, as well as a call for tribal nominations for membership on the negotiated rulemaking committee, and comments on the establishment of this committee. The due date for nominations is June 9, 2016.
I was joined at the roundtable meeting by our new Deputy Assistant Secretary for Tribal Government Affairs, Kenneth Martin. Throughout this the Administration, there has always been a senior official who has served as the primary liaison between the Department and Tribal Governments, but Kenneth, an enrolled member of the Bad River Band of Lake Superior Chippewa Indians, will serve as the first Deputy Assistant Secretary at the Department dedicated to strengthening the government-to-government relationship between the United States and tribal governments. This is an exciting development for the Department as we move to make USDOT more responsive to the needs of Indian Country.
We'll continue to actively engage with American Indian and Alaska Native communities, with our Federal partners on the White House Council on Native American Affairs, and with the nation at large as we work to ensure that our transportation system continued to be the safest, fastest, and most efficient.
(Source: https://www.transportation.gov/fastlane/expanding-tribal-community-transportation-options)