The Every Place Counts design challenge aims to reconnect communities isolated by infrastructure.
If transportation infrastructure is a nation's connective tissue, then the U.S. has excelled at severing its own parts.
In the heyday of
mid-century infrastructure expansion
, federal, state, and local policymakers ran highways and interstates through low-income, minority communities in cities around the U.S. This displaced residents, sapped local economies, and isolated neighborhoods with permanent, concrete scars.
"It's hard to find a city where this didn't happen," Anthony Foxx, the U.S. Secretary of Transportation, tells CityLab. "Whether it's North, South, East or West, the issues around the placement of infrastructure, and resulting impact on opportunities, are significant."
The same sorts of communities suffer disproportionate negative impacts from
airports and railways located nearby. And compared to wealthier areas, these communities often lack equal levels of access to public transit.

Four communities around the U.S. will be selected to receive a specialized DOT design session in their hometowns, which will offer "in-depth facilitation of design strategies, on-site advice from subject-matter experts, targeted guidance related to USDOT program funds, and identification of resources to address an existing transportation infrastructure project challenge," according to a federal notice provided to CityLab.Wednesday marks the launch of an initiative from the Department of Transportation aimed at mending some of those old wounds.
The
Every Place Counts Design Challenge
calls on local governments to identify neighborhoods that face barriers to (or created by) existing transportation infrastructure, and to compete to work with experts who'll assist in knocking them down.
To be eligible, elected officials, urban planners, designers, and a cross-section of local residents must all convene around a transportation project that is already in the works and has the potential to reconnect communities to essential services such as jobs, healthcare, and schools. Applications (due June 3) must demonstrate how the existing infrastructure cuts people off from those needs, and how working with transportation and design experts could help these
areas achieve better outcomes.
What kinds of projects will the DOT be watching for? Some hints might be found among the recent recipients of the agency's
TIGER
and
Ladders of Opportunity
transit grants. In 2015, Texas received more than $20 million to improve rural transportation services. In 2014, Richmond got $25 million dollars to create a BRT corridor serving disadvantaged communities, and Detroit was granted $37 million to complete its downtown streetcar system. Foxx will host a "virtual town hall" on May 11 (
registration here
) to provide more details.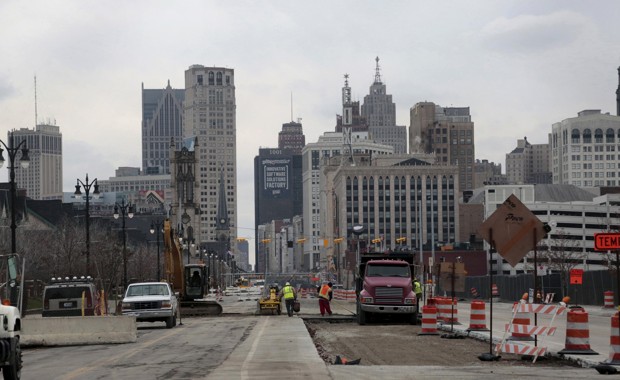 Every Place Counts isn't a funding competition, though. The idea is for communities to raise visibility, and the level of conversation, in order to leverage public and private funding that's already available for transportation projects in underserved areas (including the aforementioned grant programs). "The problems we've identified were in
the bloodstream of our transportation system from the beginning," Foxx says. "The solutions are also in the bloodstream."
More money for these sorts of vital projects would be even better. But the challenge's timing, and approach, is spot-on. It's no secret that infrastructure around the U.S. is nearing the end of its useful life, and needs to be replaced. "There's a huge window of opportunity now to rethink how we've done things in the past," Foxx says. The emphasis on engaging with local residents, for example, is a big step away from the top-down planning favored in the '50s and '60s. And Foxx is hopeful that the best applications will produce practical ideas that can be applied elsewhere in the country.
Whether or not they win, "simply identifying good projects and having conversations about transportation barriers will serve its own purpose," he says. "It'll raise public awareness and engagement [with the planning process], and the accountability of elected officials."
Since taking office in 2013, Foxx has pushed for policies aimed at restoring communities that have suffered under his DOT predecessors. His
proposed 2017 budget
, which calls to empower metropolitan planning organizations with more direct funding, is a notable example (
even if it is doomed in Congress
). Another way of putting it: He wants to expand the range of
transportation choices
for all Americans.
"We as a transportation community have to try harder to listen and embrace what we're hearing," Foxx says. "We can get closer to decisions about connectivity so that folks aren't being walled into the same zip codes and same challenges associated with being disconnected
from the economy. We can do so much better than in the past."
(Source: http://www.citylab.com/commute/2016/05/dot-every-place-counts-challenge-anthony-foxx/481008/?utm_source=nl__link1_050416)