Metro's $120 billion rail proposal alone won't transform how Angelenos get around.
A long, hot haul over the I-405's
Sepulveda pass corridor
is always a good reminder of L.A.'s sore need for new ideas in transportation. That stretch consistently ranks as among the
most congested in the country
, and for decades has been the focal point of ambitious ideas aimed at solving the city's infamous traffic.
True to form, the gridlocked Sepulveda corridor is once again at the centerpiece of the city's transit plans, this time in a
$120 billion tax proposal
released earlier this month by the Los Angeles County Metropolitan Transportation Authority that lays out nearly 40 transit and highway improvements over about as many years. It puts a big emphasis on rail projects, proposing a rail tunnel underneath that section of the I-405 (and placing a toll road there), accelerated work on extending the Purple Line subway to Westwood, extending the Red and Gold lines, and new transit lines in the San Fernando Valley and in Artesia—plus expanded bus service on some major thoroughfares and a number of highway improvements. The initiative would be funded by a half-cent sales tax increase (and
extend a similar, earlier increase
) for 40 years. To pass, it needs to win a two-thirds majority on the ballot come November.
The plan is largely about reducing congestion, officials say. "This plan provides an exciting basis for a discussion about how Metro proposes to ease traffic and improve transit options for millions of Angelenos,"
said
Metro Board Chair Mark Ridley-Thomas in a release. "With the County's population expected to grow by 750,000 over the next decade, we cannot afford to be in chronic gridlock," Mayor Eric Garcetti
said in his own
statement
. A Metro
website
developed for the plan cites various ways that transit already "eases traffic": more Metro rail lines and stations (including the
Gold Line extension that opened
earlier this month), freeway-widening projects, one million bus rides per day, adding carpool and express lanes, and funding local projects like pothole repairs and bike-share services.
The plan has gained support from the likes of Denny Zane, the executive director of the local transit advocacy group
Move LA
. He calls it "transformative." "Right now we've got a only handful stations with connecting rail lines," Zane tells CityLab. "The full build-out of Metro's plan puts forth a whole new level of connectivity, and that's the secret sauce of ridership growth."
But Angelenos might be getting their hopes up too high if they buy into the city's sales pitch that trains alone will cut down on traffic.
Traffic isn't going anywhere soon
Though the argument that transit reduces traffic is popular and logical, it generally doesn't bear out. "Some places see slight congestion gains or mileage declines in the short term, and well-designed service should lay the foundation for reduced car-reliance in the long run, but the direct transit-traffic link is tenuous at best," Eric Jaffe
wrote
at CityLab in 2015. It's largely the fault of that old devil, induced demand: When there's more open space on the road, drivers flock to fill it.
Additionally
,
the biggest factors that affect ridership are largely out of the hands of transit agencies. These include the (falling) price of gasoline, and the many quiet subsidies that cities allow to support automobiles. "It's the free parking. It's the invisible costs that developers absorb and that drivers don't have to pay, from widened streets to new left-turn lanes," Michael Manville, a professor of urban planning at Cornell University who is soon to move to the University of California, Los Angeles, tells CityLab. So long as vehicles are cheap and convenient, it's going to be hard for transit to compete.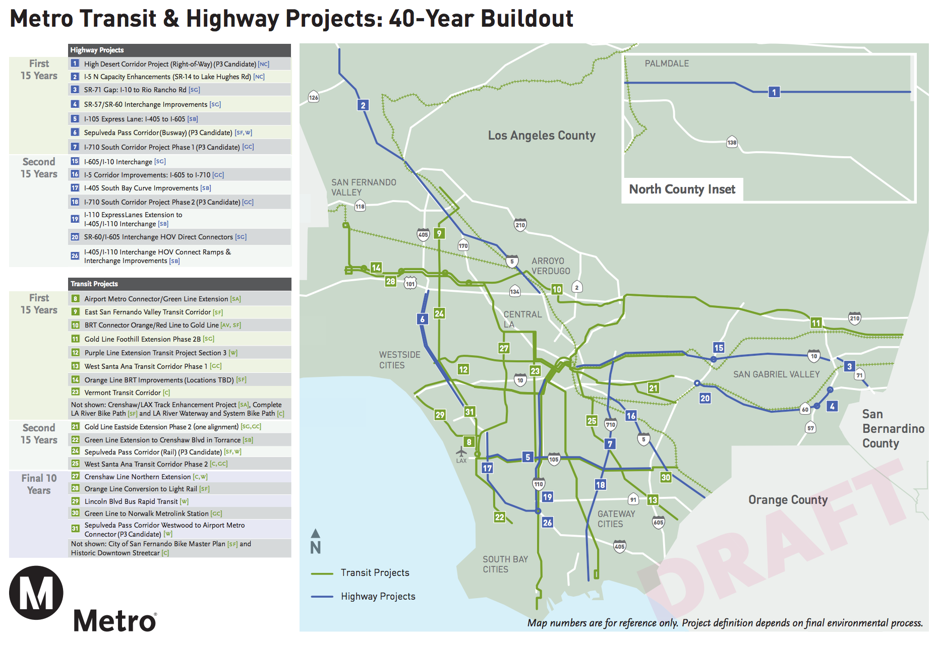 Zoning trouble
There's also transportation's old frenemy, land-use planning. L.A. county's zoning patterns have long favored relatively low-density housing and generous minimum-parking requirements. It's been a long,
tough slog
pushing higher density and transit-oriented development across the sprawling region. (Notwithstanding the fact that L.A. is the
densest metropolitan region
in the country.) "If it's now possible for me to get from Pasadena to Westwood on transit, I'm all for that," Lisa Schweitzer, a scholar of transportation and urban planning at the University of Southern California, tells CityLab. "But if Pasadena doesn't get more populated, then there are only so many people who are going to make that trip."
Other contentious ballot measures don't bode well for a denser future. The
Neighborhood Integrity Initiative
, which voters are expected to decide on in March 2017, can be read as a backlash to the city's recent attempts at getting higher density, transit-oriented development into certain, more coveted neighborhoods. The measure would establish a moratorium of up to two years on any development project "that requires a City Council vote to increase the number of housing units allowed on a particular site," reports the
L.A. Times.
Advocates say it's a way to preserve the character of their communities, while critics worry that the measure would stunt efforts to combat the city's affordable housing crisis by stopping virtually all large-scale developments for some time. In that way, the initiative would also threaten the city's ability to scale up density in order to support transit.


The benefits of transit
So what to do about traffic, from a transit agency's perspective? Manville advocates for strategies like
congestion pricing
for roads and parking, which have been proven effective at reducing traffic. But Schweitzer worries those are regressive measures, particularly because a huge share of drivers in L.A. are low-income—as are the lion's share of transit riders. In the long term, she says she'd love to see some radical experimentation in the way the city incorporates zoning rules in its transit planning. And in the short-term, she favors a transit scheme that places more emphasis on increasing bus service frequency rather than on building out new rail lines.
Which leads to a final point: Transit doesn't have to reduce traffic to be successful. Indeed, its central aim probably shouldn't be serving the people who don't actually use it. Transit's best selling point is that it offers mobility to those who, for any number of reasons, can't or choose not to drive. It also underpins bustling economic activity, pushes people into job centers, and improves
long-term
sustainability. The t
ransportation scholar David Levinson
wrote
in 2015 about
the warped notion
that the goal of public transit funding should be to benefit non-transit users:
Transit today is, in almost all U.S. markets, slower than driving. People who depend on transit can reach fewer jobs than those who have automobiles available. Some people use transit by choice, for instance to save money (if they need to pay for parking), and the rest without choice. In my opinion, it is more important to spend scarce public dollars to improve options for those without choices than to improve the choices for those who already have alternatives.
Put in these terms, Metro's proposal—which, as a draft, is bound to change—could have a huge impact for the millions of Angelenos who use transit, at least in the long run. That's how Metro should sell it, rather than grounding it in slippery terms of traffic reduction. (The politics of vote-courtship make that challenging, though.) Furthermore, no Angeleno should expect a complete "transformation" in the way they get around without significant changes in the city's approach to development and density. Sadly, with measures like the Neighborhood Integrity Initiative on the table, that might take longer than ever.
(Source:
http://www.citylab.com/commute/2016/03/metro-la-transit-proposal-ease-traffic/476004/)