Sam Polcer's portraits celebrate cool riders around the world.
For about two years,
Sam Polcer
would stand with his bike in different parts of New York City—on street corners, near bridges and
velodromes—and chase down cyclists. He went after those who were impeccably dressed, including women in flowy dresses and men in clean-cut suits. He also went after those with a distinct fashion style: a young woman with fiery hair, a man with a red feather in his fedora.
Once Polcer caught up with them, he'd whip out his camera and snap a portrait. He also noted type of bikes they were riding, whether a BMX bike, a single-speed, or a vintage one. The result: stunning photos that show fashion and cycling don't have to be mutually exclusive.
"Cycling has sort of been perceived as something that only spandex-clad weekend warriors can do," says Polcer, who works as a freelance photographer and as the director of communication for the educational nonprofit
Bike New York
. "I have no problems with those folks, but they aren't the only ones riding."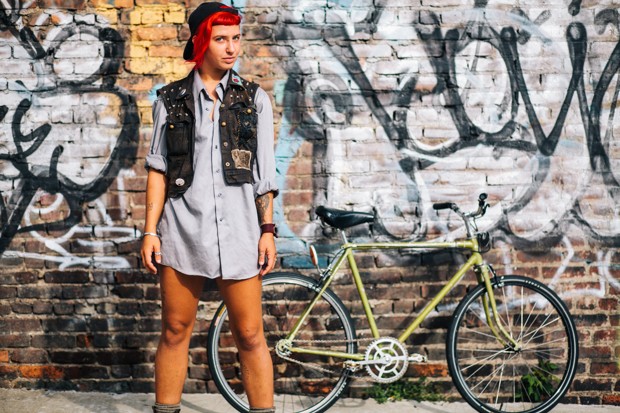 The photos were published in his 2014 book,
New York Bike Style
, but he's continued to update his blog,
Preferred Mode
, with
new shots from his trips overseas. The project aims to capture the diversity of riders out there.
In New York
,
Polcer met the famous biking enthusiast
David Byrne
on the bike path he took to work every day, as well as the YouTube star Casey Neistat, who insisted that Polcer take a portrait of him in the middle of Broadway with his bike suspended in mid-air.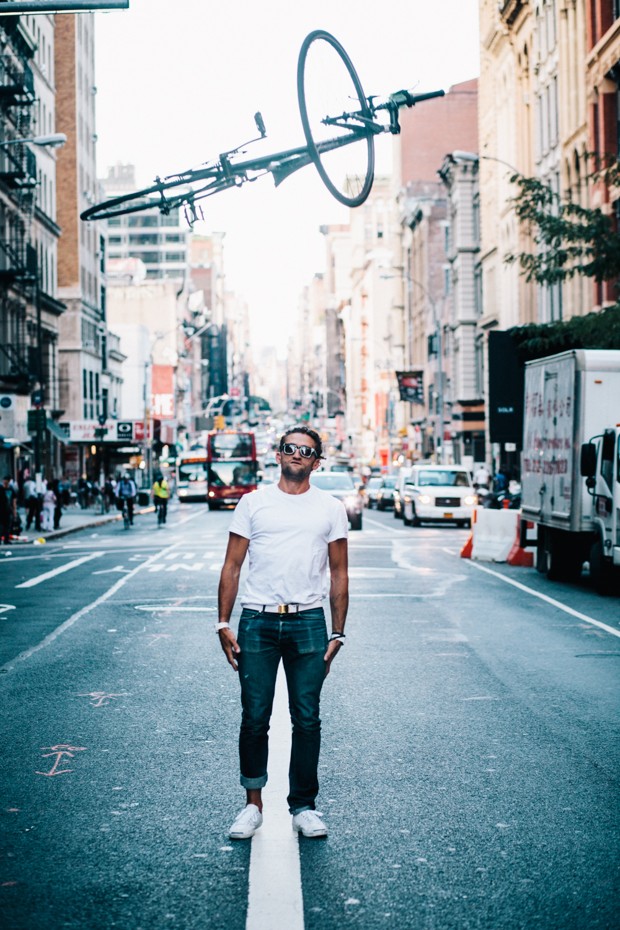 When it comes to finding stylish subjects, "it's not suits and sundresses, or designer jeans," Polcer tells CityLab. "It's everything from someone covered in sand after leaving the beach to guys up in the Bronx riding BMX." Basically, he says, he'd chase down anyone who caught his eye.
Then there are the portraits of local bike clubs like the Black Label Bike Clubs—"they sort of look like the Hells Angels of bikes"—and the different Puerto Rican Schwinn clubs showing off their vintage models.
Polcer recalls meeting Roberto and Wilfredo, two brothers who belonged to different Schwinn clubs and who just happened to be just a few streets apart. "I photographed one, and he said, 'Hey, go up the block and find my brother, Wilfredo, tell him I sent you.'"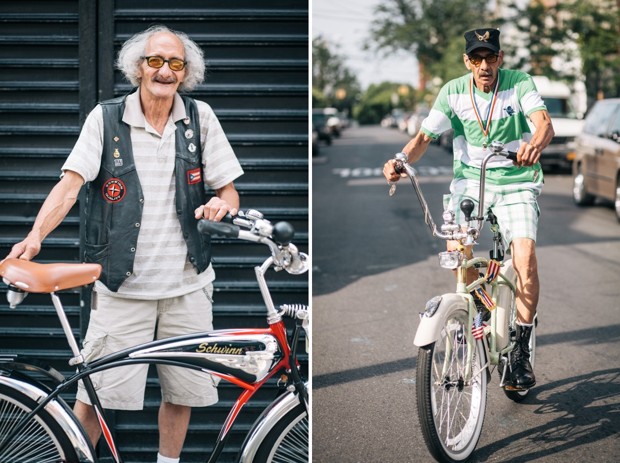 Since his book's release, Polcer has had the chance to visit Tokyo, Japan, and Bangkok, Thailand. "Tokyo is a truly remarkable place to ride a bike, despite the fact that they haven't put nearly nearly as much effort into their bike lane infrastructure as they have elsewhere," he says. "To me, it seemed to me very utilitarian. The one thing I noticed was how many middle-aged women rode around on mamachari bikes—these big, clunky cruisers with a big basket in the front."
In the traffic-heavy city of Bangkok, hundreds of cyclists gather every weekend to ride for hours around the 14-mile Green Cycle Track near the the city's international airport. This is despite the city's stifling weather. "It's proof to me that even in sweltering heat, in cities where cycling doesn't make sense, there are still people who want to ride because it's testament to how much fun it is."
But in the global arena, he says, there's another misconception—that in developing countries, it's only the underclass who ride. And that people only do it because they can't afford cars.
"I hope the perception changes and I think that style can play a role in that," he says. "I want people to be seduced by the idea of cycling. It's something you can do that is cool and fashionable and will make you the envy of your friends."
(Source: http://www.citylab.com/navigator/2016/05/cyclist-portraits-sam-polcer-preferred-mode-style/482493/)