Banning vehicles from parts of the city—including the Champs Elysées—is part of an ongoing effort to curb pollution.
Beginning May 8, some Sundays in Paris will be a little less smoggy.
The French city will ban car traffic along the Champs Elysées and nine other routes on the first Sunday of each month, adding to the 13 areas already announced as part of the "
Paris Breathes
" campaign,
The Independent
reports. (Mayor Anne Hidalgo moved the launch to May 8 from May 1 to avoid conflict with a public holiday.) Another four zones will be pedestrian-only on Sundays, but just during the summer.

After the success of "Journee Sans Voiture," Hildago
tweeted
: "We might envisage days without cars more often … perhaps even once a month." The forthcoming car-free Sundays are the result of that thought.
Since taking office in 2014, Hidalgo has made improving Paris' air quality one of her top priorities. And her efforts have proven successful: Last September, Paris' "day without cars" brought levels of smog-causing nitrogen dioxide down by 40 percent in parts of the city,
The Guardian reports
. On the Champs Elysées, the city's air pollution tracker
Airparif
measured a one-third reduction in nitrogen dioxide that day.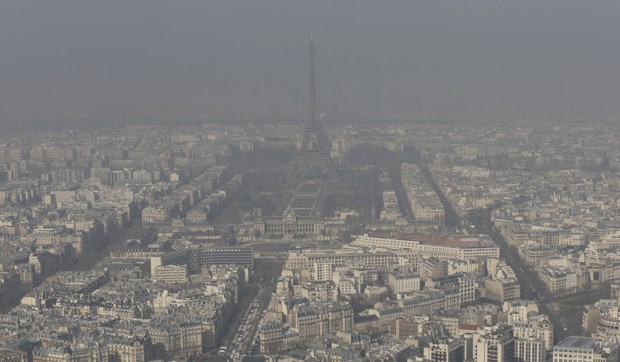 Speaking to
The Independent
, Oliver Hayes, a Friends of the Earth air pollution campaigner, said that while Paris, with its vehicle restrictions and plans to phase out diesel buses, is clearly attempting to address its growing air-quality problem, "we're going to need much more than one day to prevent the thousands of early deaths caused each year by air pollution." The World Health Organization estimates that, in France, those deaths
number around 42,000
.
Hayes' sentiments echo the response the expansion of Mexico City's "Hoy No Circula" system, which bans cars from the road one day per week.
CityLab Latino
reports that scientists have criticized the proposal, calling it "an immediate, temporary measure" with no long-term effect.
As my colleague Tanvi Misra reported,
Dehli's limit on car use
earlier this year didn't result in improved air quality, either. That should serve as a reminder that pollution is not the fault of cars alone; industrial emissions and power plants account for the bulk of the Indian city's air-quality problems. The same holds true for Paris: CityLab
previously reported
that the region's industries cause the most particle emissions at 30 percent of the total.
However, the impetus behind "Paris Breathes" cannot be dismissed. While one day per month will not, in and of itself, reduce air pollution to the necessary extent, it goes a long way toward encouraging a culture shift. Speaking to
The Guardian
after the September 27th car ban in Paris, Christophe Najdovski, the deputy mayor in charge of transport, said: "We have to change people's attitudes and behavior. The fact is you don't need a car to get around in Paris and there is no reason to use one most of the time. You can take public transport, bicycles, and even walk." The car ban, he said, was effectively a symbolic event, one that nevertheless showed, as the forthcoming restrictions will, that it's possible for people to "move about the city differently."
(Source: http://www.citylab.com/commute/2016/04/paris-introduces-car-free-sundays/480609/?utm_source=nl__link6_050216)