The Russian capital is on pace to see 76 new metro stations open by 2020.
With 200 stations, 207 miles of track and just 20 hours to cover them all,
Moscow's Metro Marathon
could stretch even the most die-hard transit lover's tolerance to its limits.
The upcoming event, which sees participants visit every Moscow metro station within a single day, is set to take place May 12 and will be the first of its kind. It's timed to coincide with the network's 81st birthday—but if that sounds like an oddly random anniversary to commemorate with a special event, rest assured that there is another more pressing reason to hold the marathon now. The first ever Metro Marathon will also be Moscow's last, because next year, visiting all of Moscow's subway stations in a single day will most likely be impossible.
Right now, Russia's capital is undergoing a vast transit expansion that will see its metro stations increase by almost 40 percent between now and 2020. In a rare achievement for this kind of project, much of the expansion actually seems to be way
ahead of schedule
, with many new stations set to open in 2018, and some possibly even earlier. The only delay so far, it seems, has been in
paying construction workers
.
None of this quite reaches the scale of the metro expansion, however. Altogether, Moscow is planning 79 new stations and 158km (98 miles) of new track, affecting pretty much every area of the city. Many metro lines will be extended a few stations farther into the suburbs, while some existing lines will be almost doubled in length. On top of this, five entirely new lines will be constructed, the most significant of which will be a new outer orbital line, going by the wonderfully retro-futurist name of the
Third Interchange Contour
. The broad strokes of the expansion are detailed in the unofficial map below, designed by the mapmaker
Sameboat
, also available in enlargeable form
here
.
(Sameboat via CC BY-SA 3.0)
The Third Interchange Contour will allow Muscovites to circumnavigate the city by metro without passing through its center, hopefully relieving pressure in the area around Moscow's gridlocked
Garden Ring
. It won't be their only option, either. Along with the metro expansion, the city is getting yet another orbital railway line: the
Moscow Ring Railway
. This is actually a line that's been around for over a century, now to be substantially revamped and brought back into passenger service.
First completed way back in 1907 (thus predating the Moscow Metro by 28 years) through what was then Moscow's semi-industrial hinterlands, the Ring Railway has been used solely for moving cargo in recent years. While its stations won't connect seamlessly with the metro (typically they're at a distance of 250 to 350 yards from each other), this alternative route should help relieve pressure on inner Moscow and hopefully lure some drivers off the city's heavily congested roads. Train buffs, meanwhile, will be delighted to note that the line has many charming original
early 20th century stations
due to be brought back into service.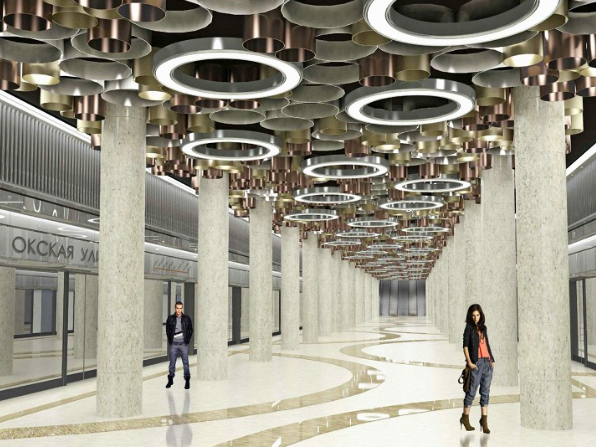 Extending the metro will also mean changing its face to an extent, something that arguably matters more in Moscow than in other cities. The extravagance of the city's
Stalin-era stations
is famous, built as they were with a shock-and-awe lavishness usually reserved elsewhere for palaces or five star hotels. At first glance, the sleek modernity of the new station designs might seem at odds with the neo-baroque opulence of the original network. There's nonetheless some continuity. The designs show a desire to dazzle, with sparkling concrete and metal surfaces and spectacular constellations of lights as seen in
these renderings
previously published by Citylab. Even the
most minimal
of the new stations feature large, bold splashes of lipstick red to highlight structural details. Only time will tell whether or not these huge works succeed in solving Moscow's terrible traffic problems, but they already prove that the official Russian taste for spectacular public infrastructure is alive and kicking.
(Source: http://www.citylab.com/commute/2016/05/moscows-huge-subway-expansion-is-actually-ahead-of-schedule/481629/?utm_source=nl__link4_050616)