As the crossing at San Ysidro-Tijuana undergoes a major expansion, advocates are pushing for more cycling infrastructure throughout the border zone.
Each morning, denizens of the San Diego-Tijuana border area turn on their radios to get the news like everyone else around the country. But along with the weather forecast (most likely sunny and 75 degrees), sports scores, and top headlines, listeners also hear the wait times at the border.
For the workers and students who live south of the border and regularly travel to the U.S., and those in the U.S. who often conduct business in and around Tijuana, it is an essential piece of information.
The San Ysidro Port of Entry is the busiest border crossing in the Western Hemisphere, with approximately 50,000 cars and 25,000 pedestrians coming through daily in the northbound direction alone. Vehicle wait times can stretch to three or four hours, and even pedestrians frequently have to spend more than an hour in line.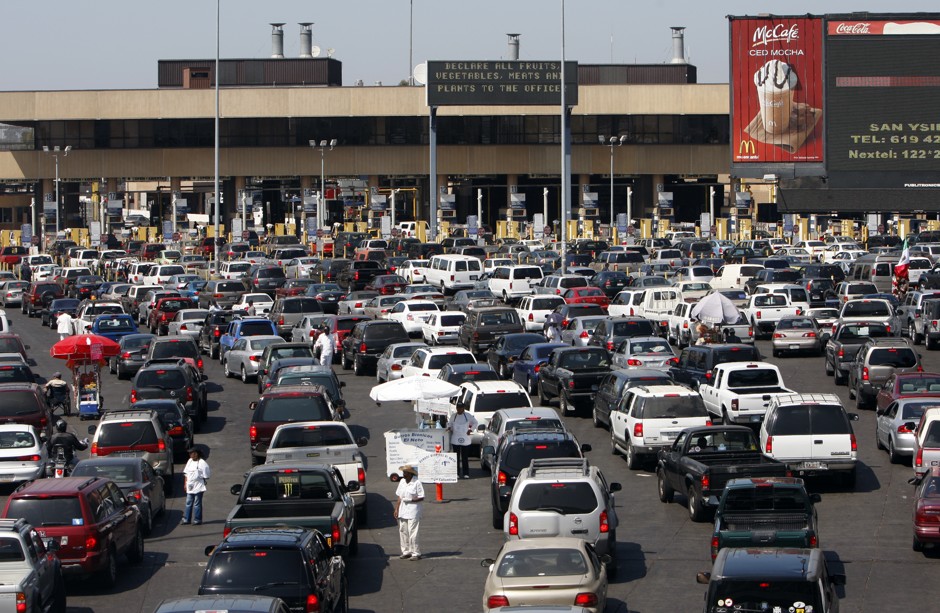 Since September 11, beefed-up security and increased documentation requirements have slowed the lines at the border. For thousands of Mexicans and Americans, a long wait at Tijuana to cross into San Ysidro, a community on the southern edge of San Diego, is part of their everyday lives. To make the crossing less congested, a broad swath of organizations is now calling for the return of a piece of infrastructure that briefly thrived after 9/11 but was later dismantled: the cross-border bike lane.
"I bike to work every day and I work in Tijuana a lot. I would bike down there all the time if it were easier," says John Holder, the border coordinator at
Wildcoast
, a non-profit on the U.S. side devoted to coastal conservation. Wildcoast supports expanded cycling opportunities.
"Traffic is gridlocked every morning coming from San Ysidro," Holder says. "There's loads of potential to make the border and San Diego a big bike hub. It's not a huge investment, so why not just do it?"
Before 9/11, the crossing between Tijuana and San Diego was relatively frictionless. Lines were short and there was no need for a passport. After 9/11, U.S. border operations were handed over to the newly formed Department of Homeland Security, which, given its mission, considerably tightened security.
To cross into the U.S. today, travelers are required to show a passport or the new U.S. passport card (good for travel to and from Mexico, Canada, and the Caribbean). Frequent border crossers can apply for a pre-screening program such as SENTRI (Secure Electronic Network for Travelers Rapid Inspection), which provides special documentation and access to shorter lines.
Directly after 9/11, bicycles were allowed to zip around cars in the regular traffic lanes, but U.S. Customs and Border Protection (CBP) nixed that for safety reasons. Next, a dedicated bike lane was set up, which was faster than the vehicle and pedestrian lanes, but was prone to abuse. An entrepreneur started renting broken-down bikes with flat tires and missing seats. Once the renter got past the border, the rental company would whisk the bikes right back to the Mexican side. The scheme led CBP to shut the lane down in 2006.
The zone is currently undergoing a major transformation on both the Mexican and U.S. sides. A $741 million, three-phase expansion of the border facilities is under way, including new infrastructure for managing commercial and private traffic—both vehicles and pedestrians.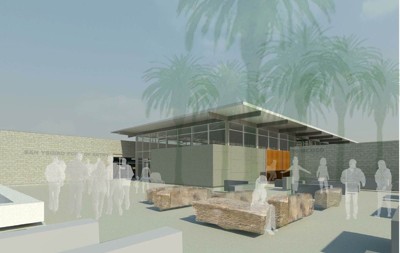 The
PedWest
bridge, slated to open this summer, is being constructed with an extra-wide lane to accommodate bikes and people with disabilities. While the U.S. General Services Administration is building the facility, CBP will operate it. So it is up to CBP to decide if there will be a dedicated bike lane and if riders will need to dismount.
For cyclists, the ideal outcome of the upgrade is clear: to be able to zip past the lines of cars on a bike, ride straight up to a customs window, and ride off without ever dismounting from your two-wheeled steed.
Lawrence Herzog, a public affairs professor at San Diego State University, regards San Diego and Tijuana as two parts of a combined,
transfrontier metropolis
. He believes the emphasis on security has become excessive and that there is too narrow a focus on vehicles in plans for the border zone.
"Alternative ways of crossing the border are not sufficiently addressed in the larger plan for the border region. There are too many people going in cars and trucks," Herzog says. "For San Ysidro and Tijuana, there's a wonderful opportunity to address pedestrians and cyclists, and people using non-vehicular transit such as rapid bus lines or light rail. Right now, there's no cross-border system."
That idea was backed by
a 2015 report
issued by a trio of regional planning agencies that detailed the need for pedestrian and cyclist improvements at the border, including a dedicated lane for bikes and more extensive bicycle routes in both San Ysidro and Tijuana. The cost of a cross-border bike inspection lane was pegged at $300,000.
The report mentioned, however, that just one percent of the people heading from Tijuana into San Ysidro each day arrive on bicycles. Holder believes their number could grow. "For sure, the bikers would come if they made improvements," he says.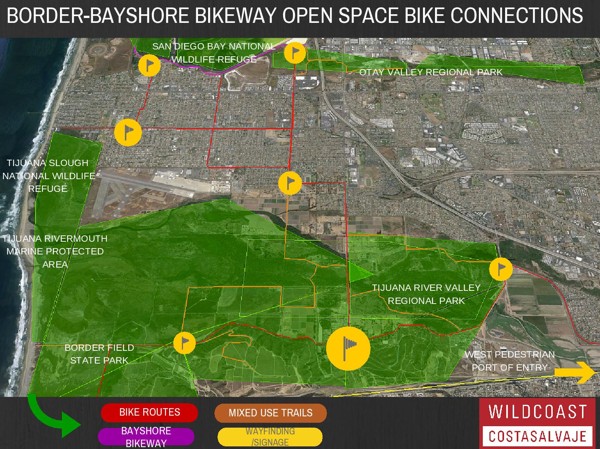 With millions of dollars also slated for transit improvements in the communities ranged along the border, advocates in both countries are fighting to make sure bikes are included in the planning process.
Some are conservationists, others are cycling enthusiasts, and still others see bike infrastructure as a health and development issue.
"We did an air-quality study from 2008 to 2011, and we found that the closer you get to the border crossing, the worse it gets," says David Flores of
Casa Familiar
, a community development organization in San Ysidro. "It simply confirmed what we knew in the back of our minds."
Deteriorating air quality at the border was one reason Casa Familiar jumped on board with others fighting for alternative modes of transportation. The group helped lobby the U.S. government to add the new PedWest crossing as part of the improvement project. (The Tijuana River traverses the border, complicating planning and restricting where crossings can be placed.)
To get people to actually ride their bikes to and from the border, most advocates agree there is a need for better bike paths on either side, in addition to a bike inspection lane at the crossing itself.
San Diego, as part of a $200 million investment in bike infrastructure, is building the "Border to Bayshore" bike lane, a nine-mile stretch that will connect San Ysidro to the rest of San Diego. Tijuana's government recently decided to turn sections of the Tijuana canal into bike paths, and it installed a bike lane following one of its major thoroughfares.
"The biggest obstacles are funding for agencies, especially in Mexico, and alignment of existing plans and bike infrastructure for transit," Holder says. "The [San Diego] trolley, which goes to the border, is not bike-friendly. They only allow one bike per car at rush hour."
That sentiment was echoed by bike advocates in Tijuana. Elizabeth Chaney rides across the border a few times a week and has helped organize bicycle groups in Tijuana, but she says many people are still wary of riding across the border.
"Crossing on a bicycle is not the simplest endeavor," she says. "A lot needs to be done to make it a better experience. Better bike facilities and dedicated lanes would help, but it's also important to have a plan for intermodal transportation in both Tijuana and San Diego."
Despite the challenges, there's a lot of energy behind the push for improvements. Groups have sprung up to make riding safer, advocates have ramped up their presence at meetings with officials, and even developers are looking to a bike-friendly future. For example, Tijuana-based Centro Ventures is integrating bike parking into
a new mixed-use development
near the border. Centro Ventures CEO Miguel Marshall has plans to connect the property's bike paths to bike lanes leading to PedWest, and is investigating providing space for a bike-share dock.
May 20 will be a joint San Diego-Tijuana bike-to-work day, which has been held each May since 2011. This year, for the first time, binational bikers will meet at Casa Familiar, where they'll discuss issues and projects with an eye toward forming a stronger coalition.
"Through advocacy, we'll show officials we want the bike inspection lane and connection," says Flores. "We are going to hammer Border Patrol to show them the need."
(Source: http://www.citylab.com/commute/2016/05/us-mexico-border-bike-lane/481515/)