New technology flashes LEDs at drivers to warn of potential collisions on a busy street in Eindhoven.
Ratcheting up yet another bike safety victory, the Netherlands has pioneered new technology that will alert drivers to oncoming cyclists via flashing LED lights embedded in the roads.
Designed by the Dutch company Heijmans,
BikeScout
was installed in March in Eindhoven's notoriously congested Meerenakkerweg-Kasteellaan roundabout. With the popularity of cycling
only increasing
—both in Eindhoven and in cities across the world—BikeScout is a step toward integrating rider safety and road infrastructure. And it's one that is particularly suited to Eindhoven, which has been working to position itself as
an innovator
in smart lighting solutions for cities.
The
way BikeScout works
is simple. Radar trackers positioned along the road for the 50 meters leading up to the intersection measure the changing positions of cyclists and pedestrians, as well as cars. The trackers analyze the data continuously, estimating speed and time of arrival at the crossing. If there's a risk of collision, the LED lights lining the intersection will flash, warning cars to stop.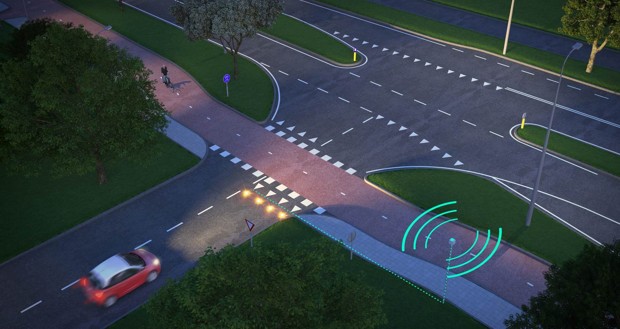 BikeScout is on the expensive side: installing the system in Eindhoven cost about $43,000, and upkeep will be another $1,100 each year,
Fast Company
reports. But the city believes it's worth it: local traffic control can monitor the effects of BikeScout through an app, and the technology collects and stores data from the intersection, making it a useful tool for cities to consult when developing future infrastructure projects.
The Netherlands is a fairly safe country for cyclists, Joziene van de Linde, the managing director of technology at Heijmans,
told
Fast Company
—but still, 25 percent of people who die in collisions
there are on a bike. There's a definite need, van de Linde said, to improve safety at intersections, especially because a spike in electric bike usage in the Netherlands has broadened the possible range of cyclist speeds. "Not all drivers are aware of those differences," she added.
But BikeScout will likely have an even greater impact in countries less used to sharing the road with cyclists than the Netherlands. Rik Hammer, the communications manager for Heijmans, tells CityLab that they're looking to bring the technology to other cities. "Nobody intentionally goes on the road and says, 'Let's hit a cyclist today,'" van de Linde added. But drivers everywhere could use the additional reminder to slow down and pay attention.
(Source: http://www.citylab.com/commute/2016/04/the-latest-in-cyclist-safety-a-light-up-intersection-in-the-netherlands/480051/?utm_source=nl__link5_042816)