A newly updated archive lets you track images of urban makeovers across the world.
Across the world, street design that favors automobiles and ignores pedestrians and cyclists is being rethought—a newly updated resource created by the Brazilian urban design collective
Urb-i
allows you to chart just how widespread and profound the changes are.
First covered by Citylab
last September
, when it was an intriguing but still modest archive of street makeovers, Urb-i's archive has since tripled in size and now contains over a thousand images. Perhaps best of all, the archive now comes with a map that allows you to search and zoom in on urban transformations across the planet.
Granted, there are some inevitable blind spots. As a crowd-sourced resource derived from Google Street view images, the archive isn't able to show urban transformations comprehensively—cities such as Accra, Ghana, for example, whose streets have undergone
many positive changes
, are absent because they aren't on Street View.
Still, the archive still makes for a compelling, increasingly comprehensive and completely addictive overview of just how many cities are rethinking street plans that once prized car access above all else.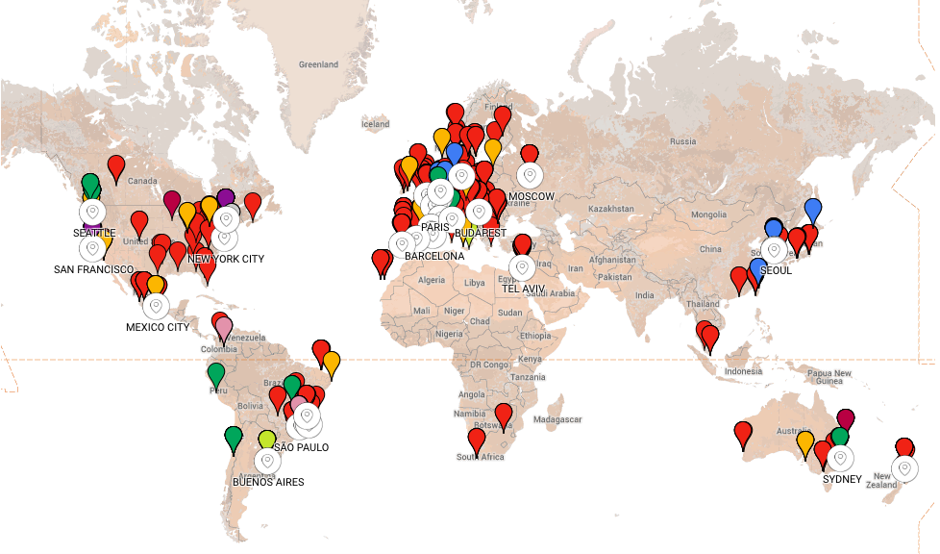 Some of the most dramatic transformations in the archive concern themselves with correcting the mistakes of the past. Take these before and after shots of Klyde Warren Park in Dallas. Where there was once a broad freeway dividing sections of the city's downtown into different chunks, there is now a spacious garden full of budding greenery. Not solely a benefit to the neighborhood's air quality, the park also acts as a suture that joins spaces that car-dominated planning had previously ripped into lonely islands.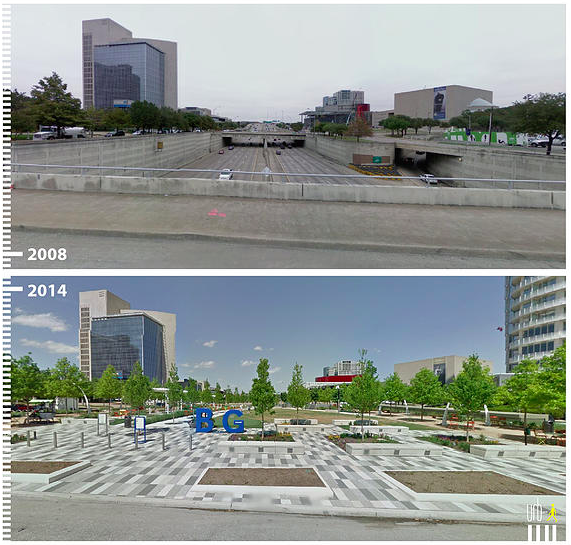 In a corner of Hamilton, New Zealand's fourth city, they've taken a slightly different approach—not just smothering a driver-only amenity in a blanket of plants and paving, but getting rid of it entirely. While it may look like an underpass, the subterranean entry shown in the before photo is actually to a parking lot, filled in to create a park and simultaneously cutting an inducement to driving into the city's downtown in the first place.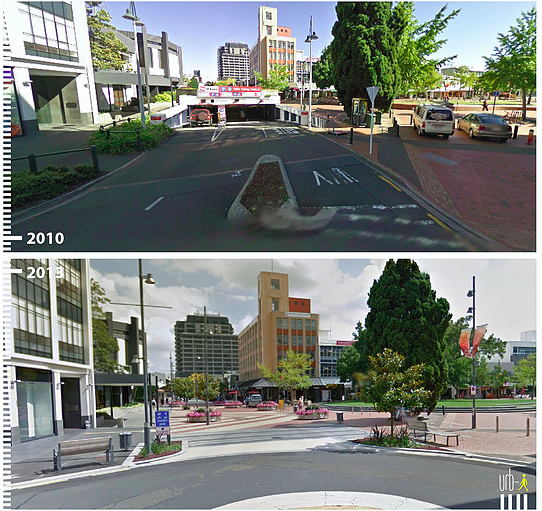 At the basic end of the spectrum are more straightforward beautification projects that improve existing conditions without greatly changing existing infrastructure. Take this redesigned square in front of Moscow's Zachatievski Monastery, for example. While the space for drivers hasn't been reduced, parking has been limited around a new garden island, removing the feeling in the previous street plan that the monastery's gateway was somehow being ignored.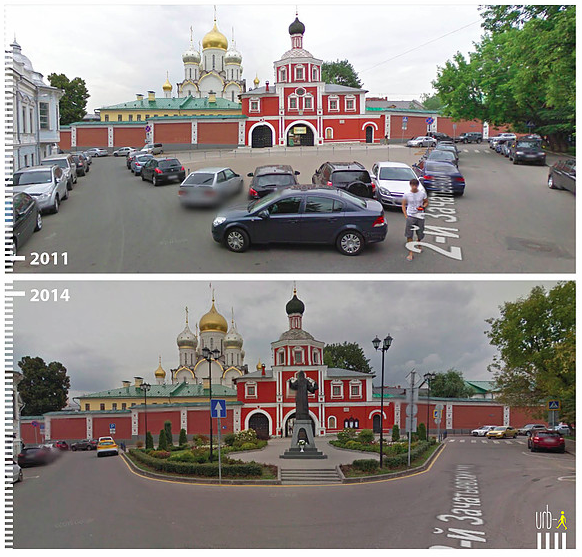 Many transformations concern themselves with pedestrian safety. This reshaping of a street in downtown Osaka allows more space for trees, but its overall objective is to manage traffic and enlarge room for pedestrians. At the junction shown here, the sidewalks have become bulbous promontories, offering a visual encouragement both to pedestrians to use these spots as crossing points and to drivers to slow down as they reach the more clearly demarcated, neck-shaped junction.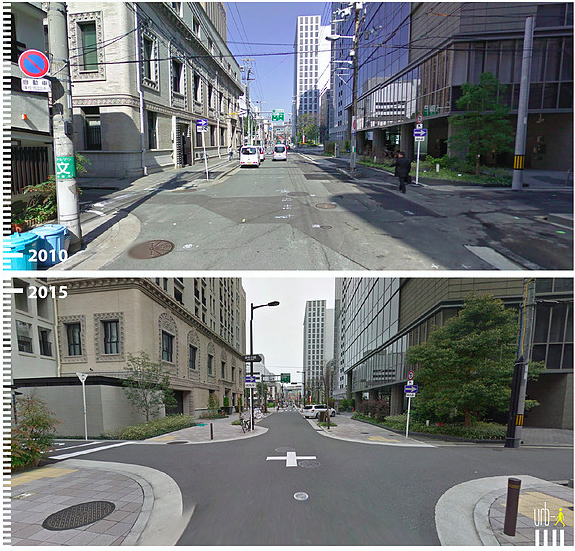 Others are dramatic in the sheer amount of space they return to people on foot. Take this square in Bucharest, Romania, whose elegant curve had been reduced to a handily shaped holding bay for cars, but has now been handed back to pedestrians.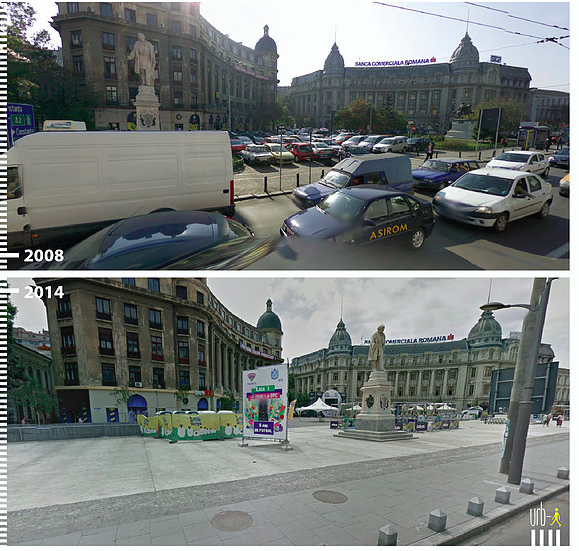 Likewise, in this corner of the Belgrano neighborhood in Buenos Aires, a proper plaza has been carved out of the road space, returning a sense of shape to the street plan and greatly boosting pedestrian safety by cutting the distance over which cross-walkers are exposed to traffic.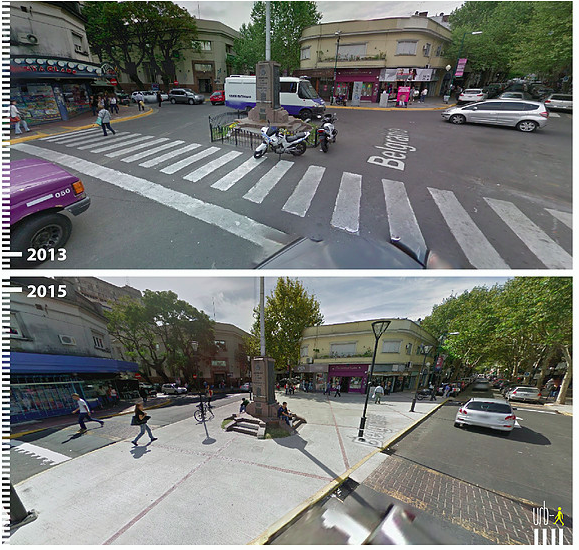 As they discourage cars and encourage strollers, many of these types of transformations are also liable to make a lot of city center services targeted at drivers—parking lots, gas stations—increasingly obsolete. So how can these spaces be re-used? A street corner in Cape Town captured in the archive shows just this question slowly being worked out. As the image shows, what was a gas station in 2009 became an impromptu parking lot the following year. Since 2013, it's become something else entirely: a
Spanish restaurant
. Just like nature, it seems that any thriving city abhors a vacuum.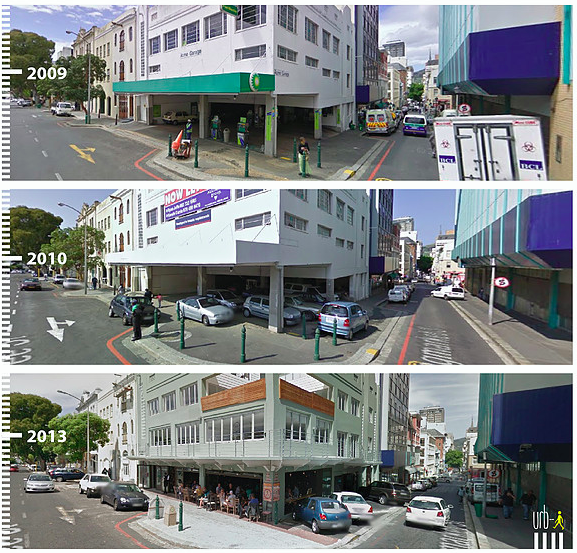 All images come from the Urb-i archive, and are originally sourced from Google Street View.
(Source:
http://www.citylab.com/design/2016/03/photos-before-after-street-designs-urbi/475977/?utm_source=nl__link2_033016)