Using data from 800 agencies nationwide, AllTransit illuminates the economic and social benefits of transit.
As the
social and economic benefits of transit
become clearer and clearer, a parade of data-driven maps and websites have tried to evaluate transit access in major American cities: where buses and trains go, who they serve, how effectively, and how often.
Tuesday marks the launch of
AllTransit
, the most exhaustive and accessible such resource yet. A joint project of the Center for Neighborhood Technology and Transit Center, it assembles the largest collection of transit data anywhere—543,000 transit stops, 800 transit agencies, and 15,000 routes nationwide, according to the site. That in itself is a major public service, since agencies aren't (as of yet) required by the DOT to open up their data about connectivity, access, and frequency. AllTransit doesn't offer that data raw (
not for free
, at least), but it does offer a number of useful ways to explore it.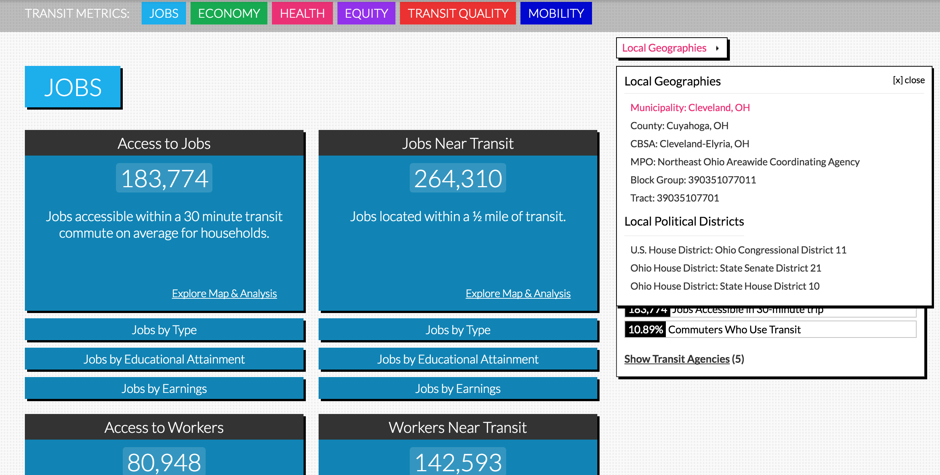 For example, punch in Columbus, Ohio—a city not well known for great transit. AllTransit spits out six distinct metrics for understanding how well buses and trains (and ferries, if Columbus had them) serve residents there. Take jobs: Using
Census data
, the tool computes how many jobs are accessible via transit within 30 minutes for the average household, how many jobs are located within a half-mile of transit, and how many workers are accessible, on average, to employers. (Not many, relatively speaking.)
If the city limits of Columbus don't constitute the right geographical scope, you can look at the same metrics for an area as broad as the metropolitan planning organization, or as narrow as a Census block group. And you can look to see how well Columbus scores on economy, transit quality, mobility, health, and equity.
That last metric is especially useful, as it illuminates (using Census and HUD data) the number of low-income housing units
with close transit access, and how transit access varies by race, income, education, and home-ownership status. At any time, you can switch to a map view to explore more visually—or glance over at area's "AllTransit Performance Score," which aggregates and weighs "the number
of trips per week and number of jobs accessible enabling people to take transit to work," according to the site.*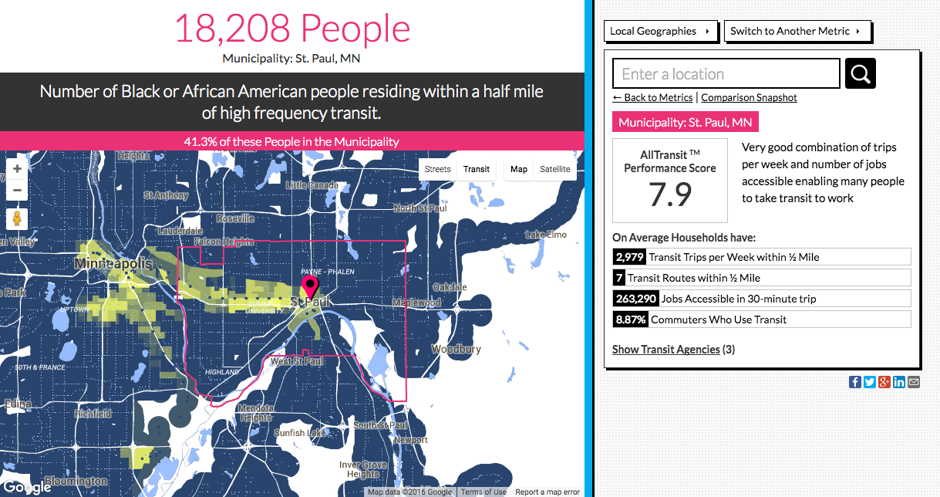 AllTransit aims to be accessible to anyone who wants to understand the absolute and relative value of transit across U.S. communities, whether they're academics, transit advocates, community residents, business owners, or elected officials. At a press conference Monday, Denny Zane, the former mayor of Santa Monica and current executive director of the transit advocacy group
Move LA
, praised the tool's malleability in light of Los Angeles county's
upcoming vote on a tax increase to fund transit
. "This will help decision-makers make smart, locational decisions about service and station areas," he said. "And if I wanted to move to some other part of the county, it's a hell of a tool to ensure I have access to services, jobs and the like."
And for transpo-nerds, AllTransit provides hours of educational fun.
Hop on board
.
*CORRECTION:

A previous version of this post incorrectly stated that the AllTransit Performance Score could be adjusted based on racial demographics.
(Source:
http://www.citylab.com/commute/2016/04/an-exhaustive-and-accessible-transit-database-has-finally-arrived/478770/?utm_source=nl__link2_041916)