A video report shows how urban planners and leaders imagined revitalizing the city.
He wanted to plop a sparkling version of the Emerald City onto the dour grid of uptown. Wide streets. Shade trees. Skyscrapers around the Square. A vibrant business district. Fourth Ward housing. Hustle, bustle.
Here are some
sketches
from the "Odell plan" that show some of the highlights of the architect's vision, courtesy of
Mary Newsom
, the
associate director of urban and regional affairs at University of North Carolina Charlotte's Urban Institute.
For one, Odell imagined a "visual and functional connection between the Central Business District and the governmental center."
He proposed a large park with a fountain in the center (pictured below), for one.
The second was a convention center (pictured below) in front of the hotels and commercial buildings in the business district. A new stadium, zoo, botanical gardens, and residential high-rises (not pictured) were some of the other features of his plan.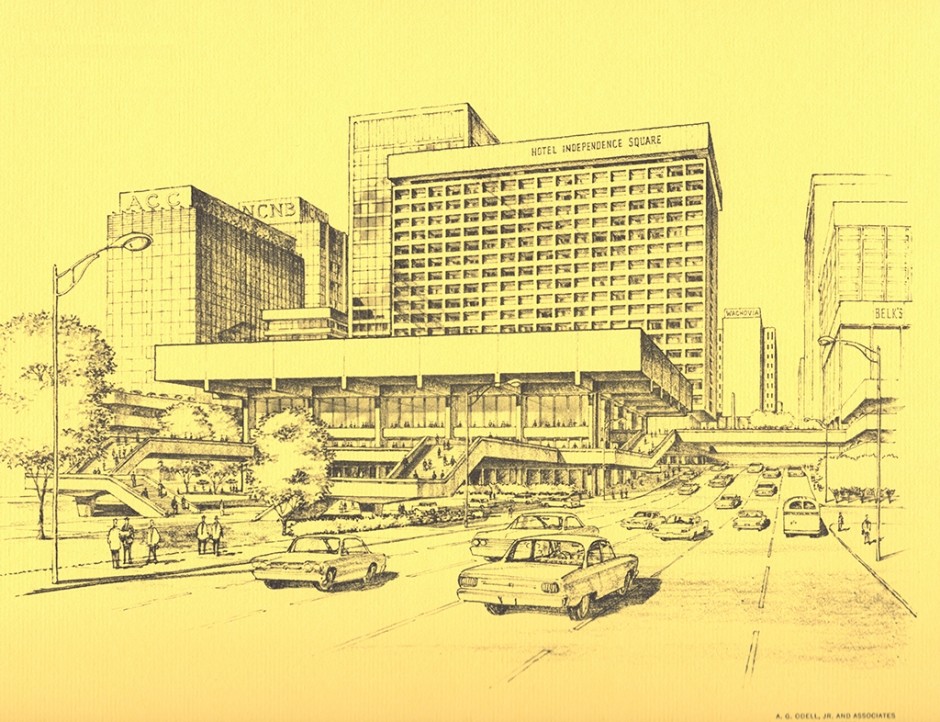 The central "Independence Square," he imagined, would be a spacious, pedestrian-friendly area with plenty of places to sit, stroll, and shop: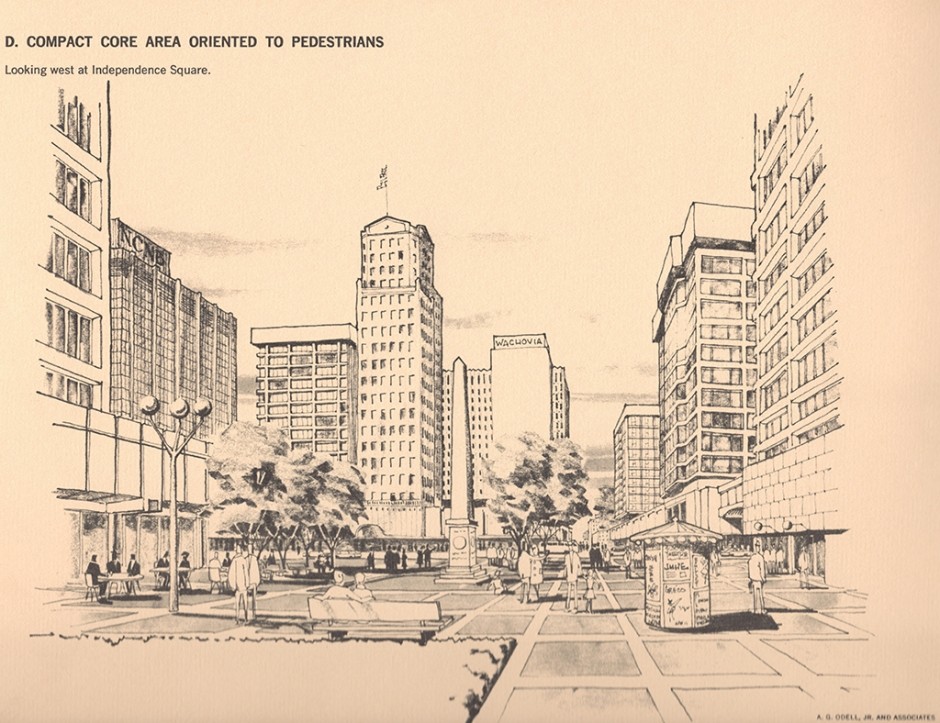 Odell also wanted to overhaul the eastern part of that 12-block stretch. The blighted and vacant buildings in this area were flanked by railway tracks. Odell wanted to pull out the tracks and lay down a multi-lane roadway. (A light rail runs through this region today.)
In a
recent article
for the
Observer
, Ely Portillo evaluates which
parts of Odell's plan stuck—and among them, what worked and what failed. Here's his verdict:
While many of the dreams have come true, others—such as a major zoo and botanical garden downtown—never unfolded as intended.
Others have come to be seen as misguided at best and tragic at worst. The Brooklyn neighborhood in Second Ward that was home to about 1,000 African-American families was torn down in the name of "urban renewal." The idea was to get rid of what was seen as "slum housing" and redevelop the land with the help of federal matching funds.
Since 1966, Charlotte has faced
many
ups
and
downs
. But the city, today, has certainly been shaped by some of Odell's ideas—both good and bad. His plan now serves primarily as a reminder that lofty, impressive-sounding plans aren't necessarily forward-thinking ones. That's why in 2011, when Charlotte unveiled
its new vision for the city
, UNC Charlotte's
Newsom
pulled out her copy of the Odell plan. Here's what she wrote
in a blog post
at the time:
Besides being fun historic documents, those old plans should remind us all that the conventional wisdom of our day may, 50 years later, prove to have been just as appallingly wrong...The goal, after all, is for someone to read a yellowing copy 50 years from now and, unlike the Odell plan, conclude that Charlotte got this one right.